NEIL YOUNG WOWS CROWD AT THE FOX THEATRE
Standing ovations begin before he plays a note
By Barry Gilbert
St. Louis Post-Dispatch
November 20, 2007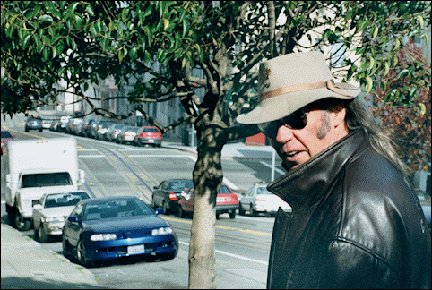 "Here I am with this old guitar, doing what I do," Neil Young sang to open his show Sunday night before adoring fans at a packed Fox Theatre. The self-effacing declaration packed as big a punch as later, feedback-drenched guitar solos.

Young, who earned a standing ovation before playing a note, couldn't have chosen a better crowd-greeter than "From Hank to Hendrix":

"I always expected/ That you should see me through/ I never believed in much/ But I believed in you./ Can we get it together?/ Can we still stand side by side?"

Yes, the crowd cheered, and Young, who survived a brain aneurysm a couple of years ago, was launched on the St. Louis installment of his Chrome Dreams II Continental Tour. He delivered about two hours and 15 minutes of music after Pegi Young, his wife and backup singer, opened with an enjoyable 35-minute set from her debut, self-titled CD.

Neil Young split his show in two, performing a first set of solo-acoustic mastery and a second of often blistering, high-energy, full-band rock.

The ever-independent artist, who turned 62 a week ago, sat amid a semicircle of guitars and pianos for the acoustic set, dressed in a tan suit and open-neck white shirt. He spoke little at first, meandering about the stage between songs, apparently trying to decide what to play next, fiddling with his harmonicas.

As usual, he mixed hits with obscurities, as "Harvest" and "Heart of Gold" mingled with "Love Art Blues," an unreleased song from 1975, and "Bad Fog of Loneliness," of which a concert version from 1971 surfaced just a year ago.

Another early, unreleased song, "Sad Movies," resonated off the gilded walls of the former movie palace, with lyrics recalling velvet seats, Saturday matinees and popcorn boxes.

"After the Gold Rush" was a first-set highlight, with Young updating the line "look at Mother Nature on the run in the nineteen seventies" to the 21st century. But when a fan shouted out "Neil for president!", Young lost his place and had to restart the third verse.

Afterward, he gently chided the crowd for shouting, explaining that so many images from his life are tied up with his most often-performed songs that he can easily lose his concentration. Ironically, a couple of songs later he stopped to exhort the crowd to "clap your asses off" when the country-rock hoedown of "Love Like a Rose" started in silence.

The second set was vintage Young. Freed of his jacket, he stalked the stage with his electric guitar, soloing in that familiar, bent-knee, rocking-chair rhythm, wispy hair flying and framing his face.

In front of a gritty, industrial-style set, Young, drummer Ralph Molina of Crazy Horse (playing under a waving Jolly Roger), bassist Rick Rosas and guitarist Ben Keith kicked off with the autobiographical "The Loner" and "Everybody Knows This Is Nowhere," both from 1969. The evening's first new songs followed, "Dirty Old Man" and "Spirit Road" from the "Chrome Dreams II" CD.

An exquisite version of Don Gibson's classic country weeper "Oh Lonesome Me" preceded two more new and spiritual songs, "The Believer" and "No Hidden Path." The latter, at more than 15 minutes long, gave Young and band room to stretch, and he alternated jazzlike runs with the feedback and heavy rock chording and picking that have mesmerized fans for nearly 40 years.

For encores, Young sandwiched the rarely performed masterpiece "Cortez the Killer" (1975) between the smash hit "Cinnamon Girl" (1969) and the mother of all Young obscurities: the surf-meets-garage instrumental "The Sultan," recorded by Young's high school band, the Squires, in Canada in 1963.

If you've got that 45 in a closet someplace, get a financial adviser pronto.