TWANGFEST 12, DAY 3:
Hayes Carll brings the country, the Old 97's brings the energy
By Barry Gilbert
St. Louis Post-Dispatch
June 6, 2008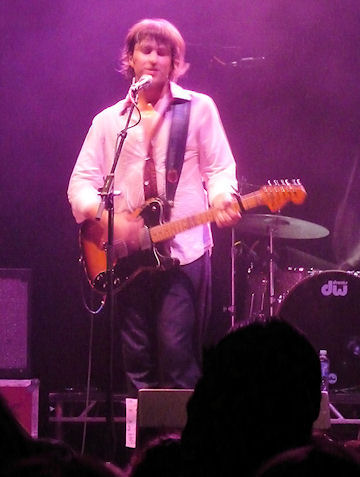 Rhett Miller of the Old 97's | Photos by Barry Gilbert

Hayes Carll and the Hubcap Stealers put the twang back in Twangfest at the Pageant on Friday night, and then the Old 97's turned up the heat with a two-hour sprint that left many in the enthusiastic crowd exhausted.

Immune to exhaustion, apparently, was the forever boyish Rhett Miller, the 97's front man, who jumped, ran and wiggled his way through a 29-song set that included a healthy selection of tunes from "Blame It on Gravity," the band's new CD and one of the strongest of its 15-year career.

The Dallas-based band, whose tightness is signaled by its practice of crediting all songs to the band regardless of who wrote them, drew from every phase of its recording career.

"Wish the Worst," from the band's 1994 debut "Hitchhike to Rhome," featured stinging solos by guitarist Ken Bethea and settled nicely into the set alongside songs such as bassist Murry Hammond's beautiful new ballad, "Color of a Lonely Heart is Blue," and the new, Latin-tinged rocker "Dance With Me."

Along the way, Old 97's favorites tumbled nonstop from the stage, including "Barrier Reef," "Streets of Where I'm From," "Big Brown Eyes," "Smokers" and the show-closing "Designs on You," "Oppenheimer" and "Timebomb."

Some "old chestnuts," as Hammond called them, were included during the first of two encores, as he and Miller, the band's co-founders, took turns on acoustic versions of rare and solo work including Hammond's "Valentine," and Miller's "Come Around" and "Bel Air."

Then it was back to the band's heady mix of country-tinged rock played with punk intensity, fueled by Hammond's solid bass and Philip Peeples' drums.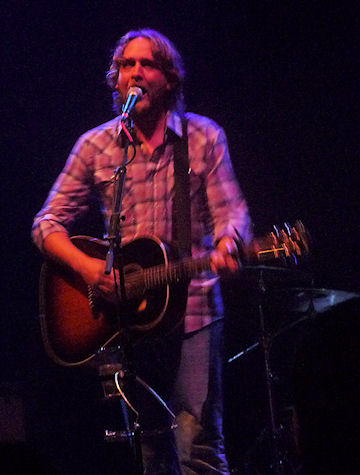 Hayes Carll

Carll, a sharp writer with a keen sense of humor, brought the first more-or-less traditional country music to Twangfest on its third night. The Houston native drew heavily from his new CD, "Trouble in Mind," for a 45-minute assessment of life that was both smart and snarky.

"I'll get old before I'm good at this/ Who's the president? What year is it?/ Doesn't anybody care about truth anymore?/ Maybe that's what songs are for," he sang on the new "Bad Liver and a Broken Heart," an instant contender for best country song title of the year. Surprisingly, Carll retooled the song as a ballad, and it was just as effective as the rocking CD version.

Aided by a fine band including Scott Davis on guitar and banjo, and Ricky Ray Jackson on guitar and pedal steel, Carll also scored with songs about love ("Drunken Poet's Dream," "A Love Like You"), life (Tom Waits' "I Don't Wanna Grow Up") and his chosen profession ("I Got a Gig," a funny tune about an old job playing in a tiny Texas shrimp shack).

He closed with "Down the Road Tonight," a rave-up that is surely unique in its same-song references to Michael Jackson, Hooters, Hare Krishnas and fellow Texas troubadour Ray Wylie Hubbard – among dozens of others.

Opening was drummer Peeples' side project, I Love Math, and St. Louis' Miles of Wire.

Twangfest 12 concludes tonight at Off Broadway with Mekons alumnus Jon Langford fronting Chicago's country-punk Waco Brothers. Also on the strong bill are Ozarks rockers Ha Ha Tonka, the everybodyfields from Johnson City, Tenn., and St. Louis country singer Caleb Travers.