TWANGFEST 12, DAY 2:
Charles Walker sets off some dynamite between the Deadstring Brothers and the Gourds
By Barry Gilbert
St. Louis Post-Dispatch
June 5, 2008
Online only review for STLtoday.com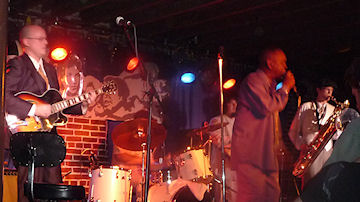 Charles Walker and the Dynamites. | Photos by Barry Gilbert

For night No. 2 of it's 12th edition, St. Louis' roots-music festival Twangfest stepped from its front-porch comfort zone and took a cab uptown for some funk and soul.

The Nashville, Tenn.-based Dynamites, featuring veteran blues man Charles Walker, wowed a packed house in Blueberry Hill's steamy Duck Room, serving as a bridge between the opening, Stonesy country rock of the Deadstring Brothers and the Southern stew of the Gourds.

The seven-member Dynamites pumped out a mixture of James Brown funk and Booker T and the MG's soul, propelled by a trio of horns and the rhythm section of drummer Pete Abbott and bassist Jerry Navarro (sporting the biggest white-guy afro this side of the '70s).

Guitarist and band leader Leo Black, who wrote all but one track of the band's exciting new CD, "Kaboom!", melted in a suit and tie as he brought out the monochromatically attired Walker.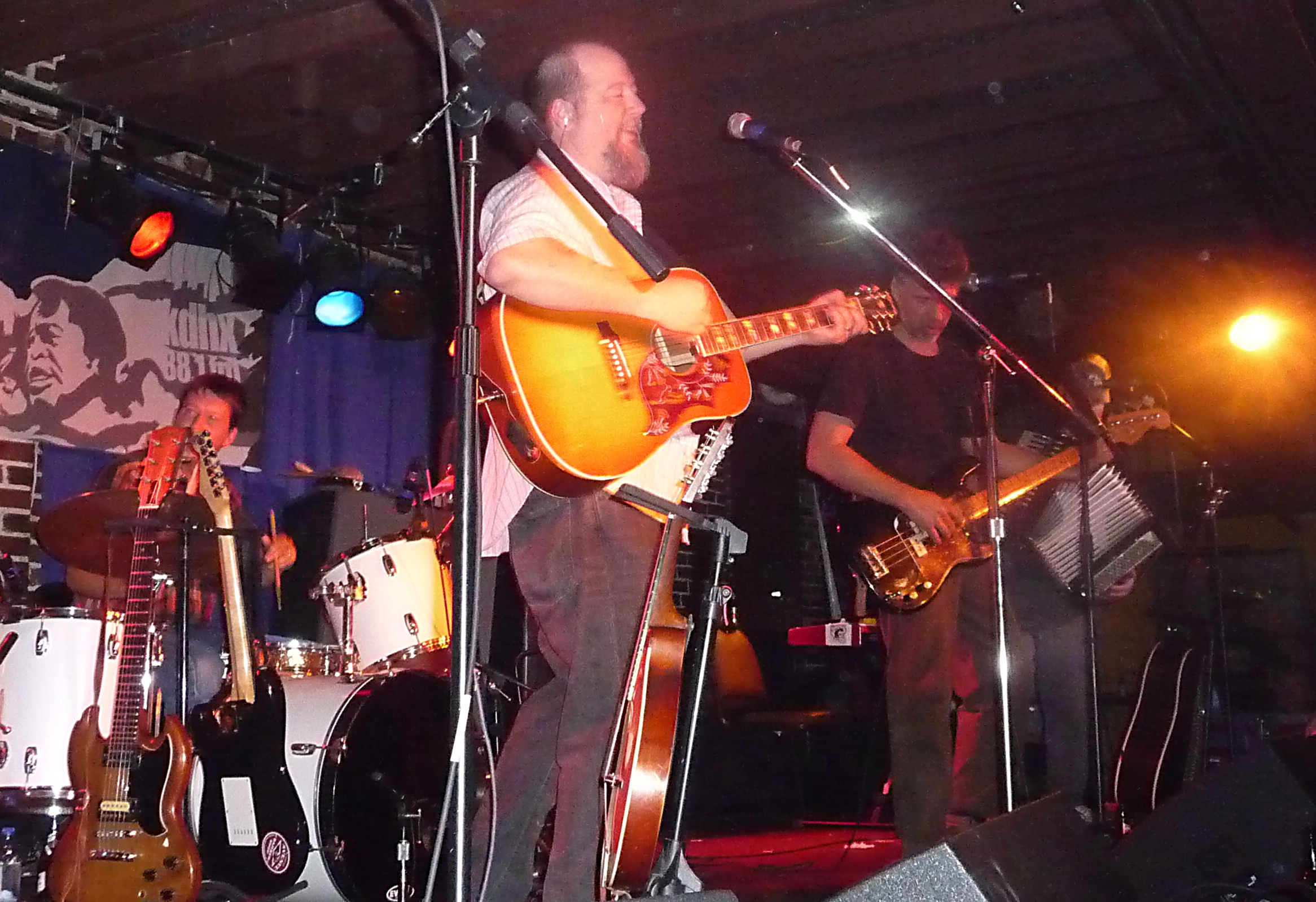 Kevin Russell and the Gourds

Walker's biographical bona fides include active singer since the '50s, an artist for legendary blues labels including Chess, opening for the likes of Brown and Wilson Pickett, and playing the Apollo Theater in Harlem.

All Walker lacked for the big time back in the day, apparently, was a hit song, because the man can pick up a room and wring it out. From new "Kaboom!" material to the vintage "Twice As Much for My Baby," Walker was in charge, exhorting the crowd to get funky.

He closed with "Summertime," growling, crying and shouting through a dynamic reading of the "Porgy & Bess" standard.

The Gourds were in the unenviable position of following the flamboyant Dynamites, but they managed it easily with their trademark, laid-back charm.

Fronted by the hillbilly aura of guitarist-mandolinist Kevin Russell and the loose grins of bassist Jimmy Smith, the Austin, Texas-based band mixed country, rock and Cajun rhythms in a satisfying set that included KDHX DJ, musician and former bar owner Fred Friction sitting in on spoons.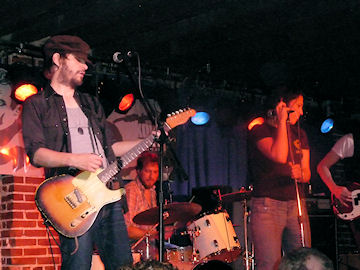 The Deadstring Brothers

"I'd like to see that with steak knives," Russell cracked.

Multi-instrumentalist Max Johnston, once of Uncle Tupelo and Wilco, chipped in with country ballads including "Jesus Christ (With Signs Following)," and the band cooked on tunes such as "Burn the Honeysuckle" and "Pine Island Bayou," flavored with Claude Bernard's accordian.

Detroit's Deadstring Brothers brought Rolling Stones "Exile"-era heat to its solid set of country-inspired rock, with guitarist Kurt Marschke and Deadstring sister Masha Marjieh sharing vocals.

The tight six-member band, which features pedal-steel guitarist Pete Ballard adding the twang and organist Pat Kenneally tying it all together, scored with "Meet Me Down at Heavy Load" and tunes from its new "Silver Mountain" CD, including "Queen of the Scene" and Leon Russell's "You Look Like the Devil."

Twangfest continues tonight at the Pageant with Dallas' Old 97's. Opening will be St. Louis' Miles of Wire and Houston singer-songwriter Hayes Carll. Twangfest 12 closes Saturday night at Off Broadway with Chicago's country-punk Waco Brothers.