TWANGFEST 12, DAY 1
Chuck Prophet and the Mission Express provide the power
By Barry Gilbert
St. Louis Post-Dispatch
June 4, 2008
Online only review for STLtoday.com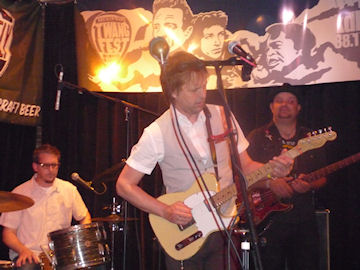 Chuck Prophet, with drummer Todd Roper and bassist Kevin
T. White. | Photos by Barry Gilbert

Chuck Prophet brought the joy of performing to Schlafly's Tap Room on Wednesday night, kicking off the first night of Twangfest 12 with an energetic mix of soul-tinged rock and power pop.

The San Francisco singer-songwriter and guitarist, backed by his tight band, the Mission Express, played a baker's dozen of songs over 75 minutes to close an evening that began with the throwback acoustic stomp of the Builders and the Butchers, and the dense indie rock of Twangfest veterans Centro-Matic.

Prophet, who was launched as a solo artist after five years with the great roots-rock band Green on Red in the late '80s, takes an approach to performing that is at once serious and playful. Opening with the instrumental "Theme to a Summer Place," a movie soundtrack hit by Percy Faith in 1960, Prophet moved quickly into his own material, including "You Been Gone." That tune came alive with dueling guitar solos by the energetic Prophet and slide guitarist James Deprato, a pattern that would be repeated throughout the set.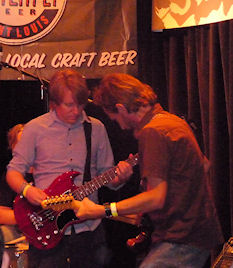 Will Johnson and Centro-Matic

Six songs were drawn from last year's excellent "Soap and Water" CD. The first, "Small-Town Girl," featured Prophet duetting with his wife, keyboard player Stephanie Finch, their eyes locked on each other.

That kind of engagement between the musicians brought an intimacy to the set, as Deprato, Finch, bassist Kevin T. White and drummer Todd Roper fed off each other's work, supporting each other with smiles and nods as Prophet's playing grew more expressive and dynamic.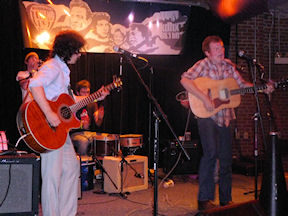 The Builders and the Butchers

Other "Soap and Water" standouts included the one-chord romp "Freckle Song" and the bluesy shuffle "A Woman's Voice." "Let's Do Something Wrong," a plea to do something worth regretting later, missed the ironic innocence of the recorded version's children's chorus, but the angry "Doubter Out of Jesus (All Over You)" had the dance floor shaking.

Prophet is a thoroughly modern performer, but his vocal style owes a debt to the '60s, from the Kinks' Ray Davies to the rhythm-driven soul and R&B of Memphis and Muscle Shoals. He showed that side of his influences with the encore "Summertime Thing" as well as the more obvious "Soul Sister" by New Orleans pianist Allen Toussaint.

Prophet and the Mission Express looked like they were having a ball, and it was impossible to watch them and not feel the same way.

Twangfest 12 continues Thursday night at Blueberry Hill's Duck Room with the eclectic Gourds from Austin, Texas. Opening will be the Dynamites featuring Charles Walker, old-school soul, funk and blues; and the Deadstring Brothers, an alt-country band from Detroit.

On Friday night, the Old 97's will headline at the Pageant, and the Waco Brothers will close Twangfest on Saturday night at Off Broadway.