'WORKING SCHMOES'
The Transmitters craft a winning second CD in their spare time
By Barry Gilbert
St. Louis Post-Dispatch
December 27, 2007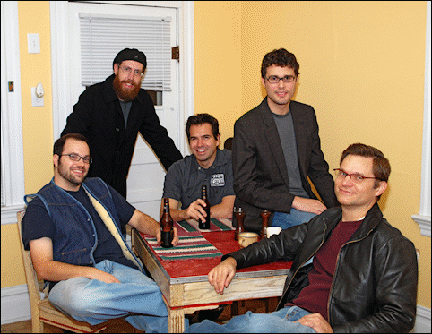 St. Louis rock band the Transmitters are (from left) drummer Scott Lampley, keyboard player Jon Parsons, bassist Dave Stallman,
guitarist Mike Young and guitarist-singer-songwriter Kip Loui.
Photo by Wally Romback





Any recording artist would welcome a big budget, limitless studio time and truckloads of high-tech equipment. But those luxuries aren't available to the vast majority of bands at any level. And besides, there's just something rock 'n' roll about sweating out a record.

Sometimes, that lack of time and resources results in a rock disc like the Transmitters' strong new sophomore CD, "Receiver": raw, but not unpolished; straightforward, but not simple; right, but not ragged.

The Transmitters' leader, veteran St. Louis singer-songwriter Kip Loui, says the album took a year to piece together.

"We're all a bunch of working schmoes," says Loui, a Roosevelt High School special-education teacher, so the CD was recorded in "stolen moments."

Guitarist Mike Young - he's Heartbreakers guitarist Mike Campbell "to my Tom Petty," Loui says - suggests only half jokingly that "if you boil down the amount of time we actually spent in the studio, it could've been done in a weekend."

That would have been one productive weekend. The CD, which the band will debut Friday night at a release party at the Duck Room, boasts 12 solid, hook-filled tracks - ranging from the bouncy pop of "Summer's Here" to the topical reggae of "Blood & Justice" to the Stones-Faces chug of the kiss-off "Nice Try."

Loui and Young, during the course of a suppertime conversation at Blueberry Hill, keep returning to the idea that the CD was done quickly. Jokingly congratulated for resisting the temptation to put Beach Boys harmonies on "Summer's Here" ("Labor Day is many weeks away/ So now we play"), Loui shakes his head and says, "Well, we ran out of time."

Young adds: "The album is rough. I'm not saying that's bad or good, but it was done quickly. ... Put a mike in front of the amp and play, and we're done."

"It's just rough enough," Loui says.

"Receiver," like the band's debut disc "Transmission," is self-funded and self-released, recorded and produced locally with Jason Hutto and Mike Martin. Now it will have to be self-marketed and self-distributed - an easier task in this digital age but still a grind.

The band is pressing enough CDs to hawk at its show, and Loui hopes to get "Receiver" listed in some Web stores, including CD Baby, where the band's first release is still available.

"But the last thing I want to do after working all day is to hang fliers," Loui says. "I just want to play."

Loui has been playing in St. Louis for many years.

"A lot of people know me through country," said Loui, 43, who spent most of the past decade with the alt-country Belle Starr and rockabilly Rockhouse Ramblers, and continues to twang with three-quarters of the Bottle Rockets in Diesel Island. "But I grew up playing in rock 'n' roll bands." And as recently as the early '90s, in the Heebie Jeebies.

"I just wanted a big rock band," Loui says, and he's got one. Together for about three years, the Transmitters are a seasoned, cohesive group that includes, in addition to Loui and Young (Gentleman Callers), bassist Dave Stallman (Donnie & the Feelgoods, Royal Motor Lodge, Rockhouse Ramblers); drummer Scott Lampley (Feelgoods); and keyboard wizard Jon Parsons (Nadine, Getaway Car and the Feelgoods, among others).

With Lampley and Stallman solid on the bottom, and Young churning out tight, song-tailored solos, Parsons - whom Loui calls "our secret weapon" - is free to soar over and under the band with a variety of keyboard sounds, from B3 organ to tinkly piano. Check out Young and Parsons' dueling solos on "Quittin' Time."

Loui, above all, is a songwriter, and a prolific one, producing a song a week, Young says. "Receiver" is full of Loui's sharp writing, such as "I've got my jacket on/'cause your memory gives me chills," from "Inbetween."

"We all have this insane passion for it, maybe more than people who do it professionally," Young, who is 30 and works in advertising, says of the band's music. "I'm not a studio musician by any stretch ... but this has given me a newfound interest in my instrument, to go with the passion."

Young and Loui haven't given up on the rock-star dream, but they are realistic.

"Our goals are somewhat modest," Loui says. "We're probably not going to go on tour in Saskatchewan. But, you never know."