BACK TO THE FUTURE
'60s folk legend Tom Rush is busier than ever, thanks to the Internet,
a warm voice and keen wit that never goes out of style.
By Barry Gilbert
St. Louis Post-Dispatch
February 14, 2008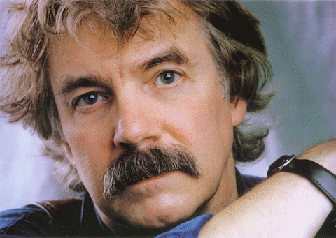 Tom Rush was at the vanguard of the '60s folk boom, helped usher in the singer-songwriter era in the '70s and hasn't recorded a studio album in 30 years. And now ... he's a YouTube star?
Yes, a clip of Rush performing "Remember?" - a funny tune about aging and forgetfulness - is up to 3.5 million plays.
"You know, I was really impressed," Rush said last week from his home in Moose, Wyo. "I was watching it every day when it was up around 1 1/2 million, then I realized there was a 10-second clip of an elephant burping that was gaining on me. And the elephant actually pulled ahead for a while. And I was very despondent. But then I kicked the elephant's butt."
Who's watching it?
"It has been proposed that it's just one guy," Rush says.
And he's really obsessed with the song?
"No, he just can't remember that he's seen it," Rush chuckles. "You know, I think it's interesting, because clearly this is not the kids. It's boomers, who are supposed to be inept when it comes to cyberspace."
Rush, who turned 67 last week, remains at the top of a career that began in the coffeehouses of Boston and Cambridge while he was a Harvard student. He has two grown sons and an 8-year-old daughter, Siena, of whom he jokes: "I've decided to have my own grandchildren, cut out the middlemen."
And this music veteran, blessed with a warm voice, unique guitar style, wry sense of humor and captivating knack for storytelling, has more offers for concert work than he cares to accept. He brings his guitars to Espenschied Chapel in Mascoutah on Sunday night.
In the '60s, Rush was at the epicenter of a folk and blues tradition that exploded and changed popular music. He was a major catalyst, discovering and first recording songs by unknowns named Joni Mitchell, Jackson Browne and James Taylor.
But that came later. First came years learning his craft in the coffeehouses, playing with and listening to blues and folk legends at places such as the Club 47 in Cambridge.
"You'd go into this little room that seated 80 people, and sit there and listen to the Carter Family or Sleepy John Estes or Mississippi John Hurt, Flatt & Scruggs, Bill Monroe, just on and on and on," Rush says. "Giants would come and play there and be 10 feet away from you. That music was just so overwhelming and compelling. I got swept away with it."
Meanwhile, Boston was alive with new talent: Rush, Eric von Schmidt, Richie Havens, Chris Smither, Peter Rowan, Maria Muldaur, Spider John Koerner, Eric Andersen, Bonnie Raitt, and visitors including Bob Dylan and Joan Baez, among many others.
Rush's first album, "Live at the Unicorn," arrived in 1962. Folk albums followed until the landmark "The Circle Game" on Elektra Records in 1968. It was lush and atmospheric, and a huge departure for Rush.
"I remember hearing Joni Mitchell, she came into a club I was playing at in Detroit. And she sang a short, four-song set, and one of those was 'Urge for Going,'" he says of the "Circle Game" track. "I was just mesmerized by that.
"Then James Taylor sat on the floor of an unfurnished office at Elektra with a tape recorder, and he sang some songs into the tape recorder for me. And I ended up singing a couple of them ('Something in the Way She Moves' and 'Sunshine, Sunshine') on 'The Circle Game.'"
That album also included the beautiful and emotionally raw "No Regrets" by Rush, which would become the title of his career-anthology CD on Columbia/Legacy. He would write more songs over a subsequent five-album stay at Columbia. But while the quality of his writing never flagged, he admits he has "not been a prolific writer."
Why?
"I hate it, which is why I don't do a lot of it," Rush says. "But once in a while a song pops out that I'm content with. I've actually done more writing in the past 10 years than I did in the first 30. It's hard work."
He has embraced the digital era, using his online music store at www.tomrush.com to offer MP3 downloads of songs no longer in physical print.
"I should be commercially extinct," Rush says. "But I'm busier than I want to be. It's a puzzle. ... I'm probably going to take another stab (at a new CD) in the next few months. But I'm a little nervous that it could screw everything up.
"I mean, maybe the fact that I haven't made an album in all this time is the reason people are coming to see me in concert."
Told that he sounds like a happy man who has led a clean, tabloid-free life, Rush laughs:
"That's because I paid 'em off. No, I haven't gotten myself in too much trouble over the years. I've managed to wiggle out of what I have gotten into. Yeah, I'm enjoying myself.
"But I'm not at all interested in retiring. For one thing, I've got another college tuition coming up, so I've gotta keep going."