MANDOLIN PRODIGY CHRIS THILE CULTIVATES HIS BRAND OF BLUEGRASS
By Barry Gilbert
St. Louis Post-Dispatch
February 15, 2007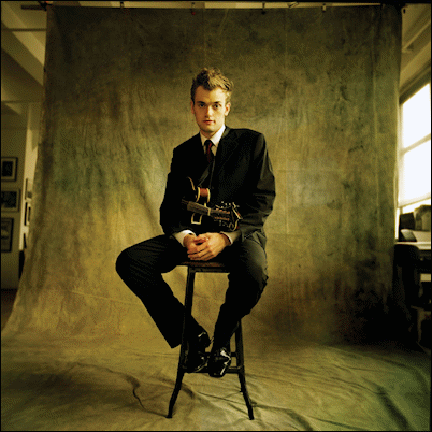 Most musicians would be thrilled to be working on their first or second CD by age 25. Mandolinist Chris Thile is nearing a dozen, including five under his own name since the age of 13.

One-third of the "newgrass" band Nickel Creek, Thile has been regarded as a bluegrass player for most of his career, although he rarely plays a traditional brand of 'grass. His 2004 solo CD "Deceiver" and Nickel Creek's current "Why Should the Fire Die?" both stretch the definition of bluegrass into experimental and pop-rock realms.

Thile's recent "How to Grow a Woman From the Ground" album, recorded with a young new band, is perhaps as close to bluegrass as he's come as an adult - despite the inclusion of songs originally done by Gillian Welch, the Strokes and the White Stripes. The song cycle about love and loss was recorded live, with the band arrayed around a pair of microphones. The playing is stunning, and the CD is warm, personal and engaging thanks to the talents of Thile, Chris Eldridge on guitar, Greg Garrison on bass, Noam Pikelny on banjo and Gabe Witcher on fiddle.

Thile took some time to chat by phone recently from his home in New York City's East Village, where he was relaxing before the launch of the "How to Grow" tour. Thile and his new band come to the Sheldon Concert Hall on Wednesday, the day after his 26th birthday.

He had just returned home from a trip to England, which he characterized as "just a daylong trip for an awards show," neglecting to mention that the show was the BBC's annual Folk Awards and that he - the only American on the ballot - was named BBC Musician of the Year.

Thile also was awaiting results of Sunday's Grammy Awards. "The Eleventh Reel," a track from the new CD, had been nominated for best country instrumental performance. The award went to Thile's Sugar Hill Records labelmates Bryan Sutton & Doc Watson for "Whiskey Before Breakfast."

Q: The media have been heralding "How to Grow a Woman" as a return to bluegrass. Do you agree?
A: It's just more music, in my opinion, but I understand why people would say that: There's a banjo on it. It's mostly that I didn't filter out that part of my musicianship - which I have done, to my discredit, before. Bluegrass makes up a far greater part of my musicianship than I was caring to admit.

Q: You recently had two big changes in your life: a divorce, and a move to New York. How have these played out in the music?
A: Living in New York, to stand out, you have to embrace what makes you unique, and that was my sort of outsider's take on bluegrass, having grown up in Southern California. As for the divorce, the real painful part of that had started to subside by the time we made the CD, although it probably will never leave all the way. But getting some perspective on it allowed me to see just how normal it all was, and I wanted to try to make a record that people could easily plug themselves into and draw something from, both from my experience and from the other songwriters whose work we used.

I like stepping away from that experience and using other people's stories, rather than just trying to (use the CD to) heal myself. Using the audience as a therapist is just not a good thing to do.

Q: You came of age when music on the radio was all about flannel and grunge. How did you come to bluegrass and the mandolin?
A: I didn't listen to the radio, so I didn't have that to work through. And I was home-schooled, so I listened to whatever I liked. My parents listened to acoustic music, so I didn't look elsewhere.

Q: What's the future of Nickel Creek (in which Thile plays with his childhood friends, siblings Sean and Sara Watkins)?
A: Nickel Creek is going on indefinite hiatus at the end of the year when that tour is over. We'll send it off into the sunset for a while.