SMITHEREENS COVER THE BEATLES AND GIVE THEM ALL THEIR LOVING
By Barry Gilbert
St. Louis Post-Dispatch
February 27, 2007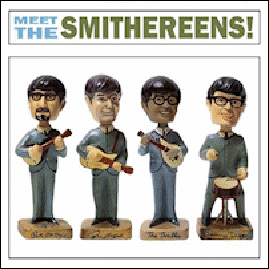 The Smithereens
'Meet the Smithereens!'
Koch Records
Grade: Pass




Tribute albums are tricky beasts. Traditionally, the best are multiperformer compilations that shine a light on an underappreciated artist or introduce a new generation to an older artist who may have slipped into relative obscurity.

"Meet the Smithereens!," however, is none of that. It's a track-by-track cover of 1964's "Meet the Beatles!," the Fab Four's first Capitol Records release in the United States: "I Want to Hold Your Hand," "I Saw Her Standing There," "It Won't Be Long," "All My Loving," "This Boy," etc.

And it's performed by the Smithereens, a fab four from New Jersey whose debt to the British Invasion has been obvious in front man Pat DiNizio's writing over a string of solid albums ("Especially for You," "Green Thoughts") and singles ("Behind the Wall of Sleep," "A Girl Like You") beginning in 1983.

But the Beatles are neither underappreciated nor fading into obscurity. Reissues, repackaging ("Anthology," "1") and reimaginings ("Love") have helped keep their classic music spinning for generation after generation of fans. Thirty-seven years after the Beatles broke up, with half of the band passed on, the world still has a case of Beatlemania.

It would take a special kind of incompetent to screw up these songs, and DiNizio (vocals, guitar), Dennis Diken (drums), Jim Babjak (guitars) and Severo Jornacion (bass, replacing Mike Mesaros) are not about to do that. They remain a killer band, digging into these old chestnuts aggressively and joyously, if not bringing much new to the dance party.

But if we had to wait eight years for the 'Reens to follow up "Date With the Smithereens," we'd have preferred more DiNizio originals: mopey, sardonic and literate studies of love and lust, packaged in memorable melodies with great hooks, propelled by an irresistible, three-chord guitar attack.

"Meet the Smithereens!" is fun (and so are the packaging and liner notes); the songs are timeless; and it's always a pleasure to hear the Smithereens rock out. But it's absolutely nonessential. Buy it only if you must have all things Beatles - or Smithereens.

So, we're grading this one on the pass-fail system rather than assigning it a letter: DiNizio and bandmates have successfully completed the course, but this CD shouldn't count toward their career GPA.