RARE SLOAN RECORDING SHOWS OFF HIS LASTING POWER
By Barry Gilbert
St. Louis Post-Dispatch
November 7, 2006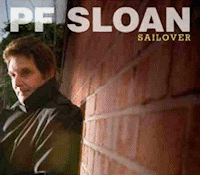 P.F. Sloan
'Sailover'
Grade: B




P.F. Sloan wrote "Secret Agent Man" for the U.S. version of Patrick McGoohan's "Secret Agent" TV series ("Danger Man" in the U.K.), and it became a hit for the Ventures and for Johnny Rivers. He also wrote the monster '60s protest song "Eve of Destruction" for Barry Maguire. So if he'd done nothing else, Sloan would be remembered in pop music history books.
But Sloan, often with writing partner Steve Barri, also wrote hit after hit in the '60s for artists including the Grass Roots, Jan & Dean, the Rip Chords, the Turtles, the Association, Herman's Hermits, the Kingsmen and the Searchers.
Sloan has rarely performed since the mid-'70s and has recorded only a handlful of albums over the past 40-plus years, and "Sailover" is his first U.S. effort in 30 years. It is a solid, Dylan-esque, folk-rock affair, more rootsy than retro, and while it revisits some of his hits, Sloan's newer songs also have legs.
Credit should go to producer Jon Tiven, who prodded Sloan back to the studio and presides over the music with class and taste, avoiding nostalgia for nostalgia's sake while wrapping Sloan in a comfortable and timeless sound.
The first two tracks are topical and revealing of Sloan's consistency over all these years: a remake of "Sins of a Family," originally cut by Maguire, and the new cautionary plea "Violence." Both hit the mark lyrically and musically, with the world-weary "Sins" getting a huge boost from Lucinda Williams' sympathetic vocals.
It's not all politics and protest, however. "Soul of the Woman," propelled by Sloan's harmonica and ex-Rascal Felix Cavaliere's electric organ, is a love song to a strong woman, as is the self-explanatory "Love is 4Giving."
Other standouts are remakes of "Halloween Mary" and "Where Were You When I Needed You" (the Grass Roots), and new tunes "Hollywood Moon" and "Sailover."
And, sadly, "Eve of Destruction" proves to be as relevant today as it was 40 years ago. The new version features Sloan, the Pixies' Frank Black and alt-country's Buddy Miller sharing the verses, and the frustration:
"Ah, you may leave here, for four days in space,/but when you return, it's the same old place,/the poundin' of the drums, the pride and disgrace,/you can bury your dead, but don't leave a trace,/hate your next-door-neighbor, but don't forget to say grace."