BOB SEGER ROCKS OUT TO MULTIGENERATIONAL CROWD
By Barry Gilbert
St. Louis Post-Dispatch
December 6, 2006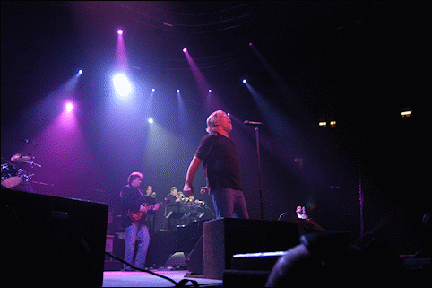 Bob Seger belts out "Trying to Live My Life Without You" early during his concert Monday night at Scottrade Center.
Rebekah Raleigh | For the Post-Dispatch

Rock 'n' roll never forgets, and neither do loyal, multigenerational Bob Seger fans who jammed Scottrade Center on Monday night to welcome back Seger and his Silver Bullet Band from a 10-year absence.

The veteran rocker, now 61, led his 13-member band through a 2 hour 15 minute performance of 24 songs, the vast majority of them timeless blue-collar, Midwestern anthems that had the crowd singing along - aging boomers alongside thirtysomethings next to the young and pierced.

Despite occasionally muddy sound, the show marked a cathartic return for one of rock's greatest voices.

Seger, dressed in a black T-shirt, faded jeans and later a headband controlling his longish gray hair, took the stage to Thin Lizzy's "Boys Are Back in Town" and said only, "Good to see ya," before launching into "Roll Me Away," punching the air with his right fist.

Longtime saxman Alto Reed prowled the stage under a huge bass saxaphone, blowing a meaty foundation for the band, which features Grand Funk expats Don Brewer on drums and Craig Frost on keyboards, and the twin-guitar attack of Jim "Moose" Brown and Mark Chatfield.

"Face the Promise," Seger's solid new CD, was liberally represented by seven numbers, including four during the first set and three in a row: the rocking title song sandwiched by ballads "Wait for Me" and "No Matter Who You Are." The unfamiliar material put the up-and-dancing crowd back in their seats, something that wouldn't have happened 20 and 30 years ago when rock DJs routinely dug beyond the singles on Seger albums.

But it was those older tunes that the audience came to hear, and the Detroit-area native - who never mentioned the Tigers-Cardinals World Series - delivered. Seger alternated funk- and soul-flavored numbers such as "Tryin' to Live My Life Without You" with elegant ballads such as "Turn the Page" that had lighters and cell-phone cameras held high, and on which he played acoustic guitar or piano. Seger and the Bullets, for one night anyway, also freed "Old Time Rock & Roll" from wedding-band purgatory.

With the four-man Motor City Horns and glorious singers Shaun Murphy, Barbara Payton and Laura Creamer in support, Seger kicked up the pace in the second set with the 40-year-old "Ramblin' Gamblin' Man," "Sunspot Baby," "Horizontal Bop" and "Katmandu" leading into a pair of two-song encores: "Night Moves" and "Hollywood Nights" followed by "Against the Wind" and "Rock and Roll Never Forgets."

Country rocker Eric Church opened and was politely received during his short set, which included his first hit single, "How 'Bout You," but ended oddly with the downer ballad "Lightning," about a guy keeping a date with the electric chair. As Chuck Berry wrote in the Seger-covered "C'Est La Vie," it goes to show you never can tell.