ROOTS HERE – AND ABROAD
Rough Shop, a country-folk duo from St. Louis, is excited
to tour Europe, where fans never seem to tire of American music
By Barry Gilbert
St. Louis Post-Dispatch
April 22, 2008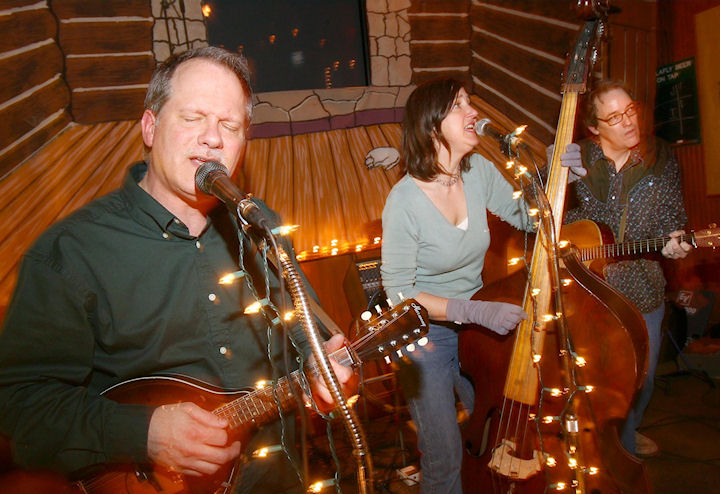 Members of Rough Shop (from left) Andy Ploof, Anne Tkach and
John Wendland perform last month.
Photo by Sarah Conard | For the Post-Dispatch

Bands whose members hold day jobs don't usually get to go on tour in Europe. But St. Louis' Rough Shop does.

Guitarist John Wendland, guitarist-mandolinist Andy Ploof and bassist Anne Tkach left this week for two weeks in Germany, Austria and Switzerland, where their new CD, "Here Today," is nestled at No. 16 on the Euro Americana Chart for April. That puts the country-folk acoustic trio just below Drive-by Truckers and Van Morrison, and just above Allison Moorer and Joe Ely. Nice company.

Wendland, 49, Ploof, 50, and Tkach, 41, in fact, have toured in Europe before, Wendland and Ploof with St. Louis-based One Fell Swoop, and Tkach with New Mexico-based Hazeldine. Both of those bands flourished in mid-to-late '90s into the 2000s.

The trio prepared hard for this trip, mixing gigs around town to support the excellent "Here Today" with regular rehearsals at Music Folk in Webster Groves, a musical instrument store co-owned by Ploof.

The venues they will play in Europe make up an eclectic list; it's one of the things the band loves about playing there. On Wednesday night, they will play Werkstatt, an arts cooperative, in Chur, Switzerland; the next day, it will be the Art Ministry School in the afternoon and the Hotel Walzenhausen in the evening, both in Walzenhausen, Switzerland; later come a theater, folk clubs and bars.

With One Fell Swoop, Wendland and Ploof would play a wine cellar "to complete silence" one night followed by a rowdy bar the next, Wendland said before a recent Rough Shop rehearsal at Music Folk.

Wendland came from California to St. Louis "for three years 20 years ago" for CMS Communications, for which he still works. He says "bar owners (in Europe) are music fans first and business owners second. Other club owners come from up to two hours away to see your show."

Tkach, a Webster High grad who works for Local Harvest on Morganford Road, adds, "It seems like there's a good network (among venues). I was also shocked by the government funds that some places get."

Ploof, from St. Louis University High, says the atmosphere for musicians is also different in Europe.

"Being a musician is a more serious undertaking," he says. "You don't see people everywhere with a guitar slung over their shoulder."

'Wide open spaces'

And music fans are incredibly appreciative of American roots music.

"(People would tell me) they hear these wide open spaces in (Hazeldine's) music," says Tkach, who also played with St. Louis alt-country band Nadine. "They have totally romanticized what the American West is about. We also played with German country bands. They're pretty proficient but just don't seem to get it (what makes American music American). It's like being locked on an island is what makes British music British."

Wendland and Ploof were the core songwriters in One Fell Swoop, a rootsy, mostly acoustic band that was in the second wave of alt-country acts after Uncle Tupelo. One Fell Swoop played Farm Aid in 1996, and its three CDs enjoyed some popularity in Europe; two were recently rereleased on the Brambus label in Germany. Brambus owner Paul Rostetter set up Rough Shop's tour.

Tkach is the only Rough Shopper who has ever had the luxury of not needing a day job, during her time with Hazeldine. That band, which featured Tkach, Tonya Lamm and Shawn Barton, got "big overnight" when Germany's Glitterhouse label put out 10 of their demos as the album "How Bees Fly," to critical acclaim.

"But I was living pretty cheaply," she says, augmenting her income by selling things at flea markets. "Eventually, we signed with Polydor records (in the United States), but we weren't very business savvy."

'A crazy illusion'

When Polydor disappeared during the late '90s music industry mergers, Hazeldine was dropped.

The dream bands have of making it big is "such a crazy illusion," Tkach says. "There is no making it out there, unless that's all you do."

One Fell Swoop's albums were also critically acclaimed, much of aimed at lead singer Cheryl Stryker, who came to St. Louis with Wendland. The band seemed to get its big break in '96 when it was invited to play Farm Aid with Willie Nelson, Neil Young, John Mellencamp and the rest. (A video of that appearance is on YouTube at tinyurl.com/6n4l73.)

"One Fell Swoop could have made a meager living, because we had a niche," Wendland says of the band's mix of country, rock and traditional acoustic music. "We would have had to do 200 shows a year, but we could have made a living."

But they all keep playing, pursuing the music if not the "crazy illusion."

"I didn't write a song till I was 25," Wendland says. "The first time you write a song that means something to someone, it turns on a light. I think we've gotten to the point where you write a song and still like it in five years."

"It's not a stage," Ploof says.

Tkach says: "I quit music for about eight years in my adult life (before joining Hazeldine). They went away, and I realized I couldn't not do it."

"Music," Wendland says, "is the only thing I've never gotten tired of."