EVERY SONG LIKE A MOVIE
Chuck Prophet sees his songs as cinema, a cast of characters complete with the actors who would play them
By Barry Gilbert
St. Louis Post-Dispatch
May 29, 2008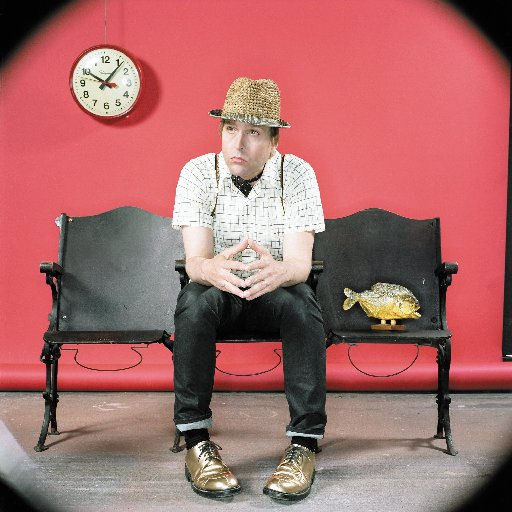 Chuck Prophet

When we hear a song by the eclectic Chuck Prophet, we might hear some garage rock, some soul and maybe a touch of TexMex. Prophet, however, might hear some Wilford Brimley and a touch of Robert Duvall.

The singer-songwriter will perform at the Schlafly Tap Room in the opening show of Twangfest 12, which runs Wednesday through June 7 at various venues. In his songs, Prophet tends to focus on characters, avoiding what he calls the "My coffee's getting cold" sound of confessional singer-songwriters.

It's about the only genre avoided by Prophet, 44, who got his break when he was invited to join roots-rockers Green on Red in time for their great 1985 album "Gas Food Lodging."

"Turning the song into the record is really the reward," Prophet says from San Francisco while discussing the title track of his 1998 CD, "The Hurting Business."

"The reward is wrestling the song to the ground with the players, and then hearing it through the big speakers. And you want to cast every song like a movie. Like, well, it would be great to have Wilford Brimley here, maybe Robert Duvall as the father figure, as a cop. I tend to think that way when I have my arranger's hat on."

That thinking often produces startling, evocative results. Last year's "Soap and Water," Prophet's eighth solo CD, incorporates sounds ranging from garage to hip-hop. It features a song called "Let's Do Something Wrong (Let's Do Something Stupid)," which was written as a tribute to hapless "Sopranos" restaurateur Artie Bucco.

"Artie's got this kind of self-pitying attitude, like he always does the right thing and it never got him anywhere, but he looks at Tony Soprano, who never did the right thing and seems to have it all," Prophet says. "That's the character that sings 'Let's do something stupid,' something we'll regret."

TWANGFEST 12

Who: Chuck Prophet
with Centro-Matic and
the Builders & the Butchers

When: Doors open
at 7 p.m. Wednesday

Where: Schlafly Tap Room,
2100 Locust Street

How much: $20

More info: 314-241-2337
or twangfest.com





And then a children's choir, used on several of the album's songs, begins singing those lyrics, "and they don't know what it is to have regret," he says. "Children don't know, really, what it is to have consequences for their actions, in such a profound way that middle-age men do. So there's no hint of irony when they're singing it."

Hearing the kids' voices come out of nowhere in that song, and work so well, makes you shake your head and laugh.

"I had the same feeling, too," Prophet says. "I didn't see it coming. And it wasn't until later that I kind of stood back and squinted and said, 'Oh, what's going on with that?'

"Because you don't know," he says with a laugh. "It's almost like a painter. You really don't know till you start throwing these things around what's gonna have that visceral effect on you."

On the twangy end of the spectrum, Prophet last year remade Waylon Jennings' "Dreaming My Dreams" album from 1975, done "as a dare" because he bragged in the studio that he could do the album from memory.

"That's pretty much the record I was soaking in when I was making my first solo album ("Brother Aldo," 1990) way back when," Prophet says of the CD, which is more experimental than reverential.

But for Prophet, it always comes back to writing for and about characters.

"I have a lot more fun writing for characters," he says. "And finding a way to get their voice the way they would talk, instead of tying things together and hoping that people will think, well, I don't know what it means, but it sounds very Dylanesque.

"I try to avoid that." he says, laughing again.