THE COSMIC COWBOY LIVES ON
Ten local artists are performing a tribute concert for one of country rock's pioneers, the late Gram Parsons
By Barry Gilbert
St. Louis Post-Dispatch
March 27, 2008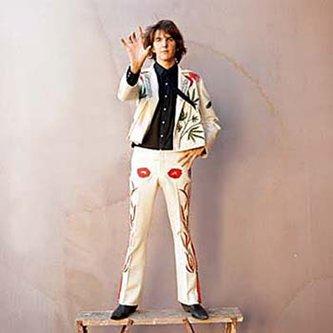 Ten St. Louis artists, most on the young side of 35, have jumped at the chance to play the music of a man who would have turned 61 last fall - music that will outlive all of them.
On Saturday night at Off Broadway, these musicians will pay tribute to Gram Parsons and the original cosmic cowboy's influence on the creation of country rock four decades ago.
Most rock fans are familiar with the music he made, if only from hearing the Byrds' groundbreaking 1968 album "Sweetheart of the Rodeo." But Parsons' subsequent genre-making work - with fellow Byrd Chris Hillman in the Flying Burrito Brothers ("The Gilded Palace of Sin," 1969), and under his own name ("GP" and "Grievous Angel," 1972-73) in collaboration with a young folk singer named Emmylou Harris - is more important, if lesser known.
"Gram's songs even now sound so fresh, the quality of the songwriting and the arrangements is so good," says pedal steel guitar player Scott Swartz of the Linemen, who is producing Saturday's show, a benefit for KDHX (88.1 FM).
"It's one thing to come along later and sort of take (country rock) and tweak it a little. But to invent it was a whole other thing."
Parsons was born in Florida in 1946 to a family with money. Biographers blame a combination of a difficult family relationship and too much money for the adult Parsons' lack of drive, and for an affinity for drugs and alcohol that killed him at age 27.
"Yeah, nothing like staging a tribute to a spoiled rich kid!" says veteran St. Louis musician Bob Reuter, who was forced by illness to drop out of the tribute. "He did show a generation that it was cool to like country - that it was the white man's soul music.
"But if I'd a been in his band, I think I'd probably want to kill him. He led them on an uphill battle - them starving, and him on a trust fund. Still, his earliest songs were killers. Brings to mind him walking into LA's Palamino Club, wearing bell bottoms and a purple cape in 1968, then bringing tears to the eyes of the rednecks who wanted to kill him till he began to sing."
Here's what some of the other performers had to say, via e-mail, about Parsons:
KIP LOUI
"To me, it was his voice that really sold the music. It was soulful and ragged and even sort of fragile. He put a hepster's spin on traditional country music and helped pave the way for all the (good and bad) '70s country-rock that followed. You could even say he was a forerunner of the whole "No Depression" movement. I mean, I remember Jay (Farrar) and Jeff (Tweedy) from Uncle Tupelo ending some of their early shows with a version of "Sin City" that would quiet the room. And I'm sure that Brian Henneman (Bottle Rockets) knows a few Gram songs. Everybody does.
MARK CHECHIK (MELODY DEN)
I started listening to him in 1977. I was really influenced by the Stones and kept seeing his name pop up in interviews with Keith Richards. So I dug deeper. ... As I started writing, country felt like a pretty comfortable place to go, but I wasn't all about twang - I wanted to bring more of a Midwest perspective to the songs.
CALEB TRAVERS
I've always been attracted to those artists who can represent both country and rock in the same song, record, or maybe just put out a country record after they do a rock album. Those are the artists who have a handle on the whole story: Orbison, Dylan, the Stones, Petty, the Byrds, Neil Young, Nick Lowe, etc. ... Gram and the other greats had no niche, and that's why they're timeless and that's why they're worth celebrating in an event like this.
COREY SAATHOFF (OF MUZZLEHORSE)
I was first exposed to Gram Parsons through the band Uncle Tupelo in the mid-1990s. Hearing their version of the Parsons tune "Blue Eyes" made me yearn for more of his music. What I came to find was nothing short of a musical epiphany. He made country sound so cool to me. Parsons bridged a musical gap between the early folk, country and soul greats and the rock sound that's become so legendary.
MELISSA ANDERSON (TENEMENT RUTH)
I know it's been said before, but it's the raw emotion of his songs that gets to me the most. Gram seemed to write exactly what he felt, and there's a lot to be said for that. He wasn't following some Nashville formula, he wasn't trying to appeal to a certain demographic, and he wasn't playing by any rules. ... He just let it flow and it worked, and I have so much respect for that.
JUSTIN KINKEL-SCHUSTER (THEODORE)
Gram Parsons was an ordinary person who wrote simple, beautiful songs that cut to the bone each and every time. He had his share of problems like everybody does, and molded them into the right words and twisted and turned familiar musical idioms into his own unique vision. I guess that's what we're all trying to do.
BOB MCKEE (THE POORHOUSE SAYS)
When I hear Gram's voice, it's like he's sitting in the living room with me. You can hear his passion and conviction in what he's singing about. It's that striking quality which defines his music, and makes you feel his emotions - makes you believe.
KEVIN BILCHIK
His legacy might be that he sang and wrote exactly what he wanted, and didn't pander or make excuses. He was definitely a showman, but at the end of the day, he was just another guy with a guitar, with a great voice, who had something to say. I guess in that way, we all aspire to be like Gram, except for the part about dying so young!