THESE OLD 97'S NEVER WRECK, THEY JUST ROCK ON


By Barry Gilbert
Of the Post-Dispatch
July 1, 2004
After about three years in the roundhouse for rest and refitting, the Old 97's are back on track, and bassist Murry Hammond couldn't be happier.
"It was definitely a long break, and I don't like breaks," says Hammond, who performed in St. Louis just three weeks ago, backing his wife, Grey DeLisle, at Twangfest. "I never want <![if !vml]>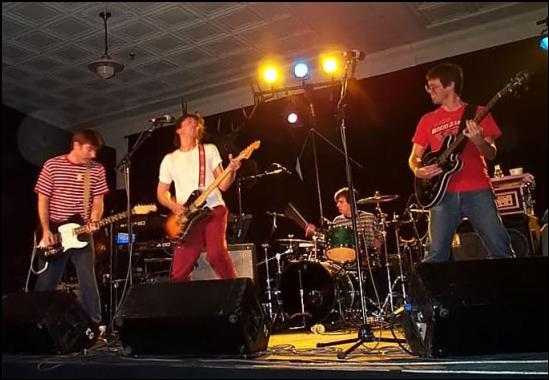 <![endif]>to break again. I don't like vacations. I like workin'."
The Old 97's, who take their name from the fact-based, traditional railroad ballad "Wreck of the Old 97" -- particularly Johnny Cash's version -- come to Mississippi Nights tonight. Formed 11 years ago in Dallas, the Old 97's still boast the original lineup: Hammond on bass and vocals, Rhett Miller on guitar and vocals, Ken Bethea on guitar and Philip Peeples on drums.
Off the major label treadmill for the first time in several years, the band is touring behind "Drag It Up" on New West Records, its sixth release. The CD continues what Hammond calls the Old 97's recipe -- country, Tex-Mex, punk, pop, surf and '60s rock -- but maybe with a touch more substance.
"We've always liked older rock 'n' roll and country music better than newer versions of it," Hammond says by phone from Los Angeles.
"It's always been some version of the recipe, and sometimes that recipe will get surf heavy or Tex-Mex heavy, or more Beatle-y and less country. The recipe tends to show up in every song."
The Kinks, for example, hover over "The New Kid," a "Drag It Up" tune about the inevitability of being replaced. And the Tex-Mex rhythms of Doug Sahm, Augie Meyers and Joe "King" Carrasco propel the bittersweet party song "Coahuila."
But the CD has several levels, not all of them happy. The disc is dedicated to Hammond's father, Donald G. Hammond, who died in the past year at 72. He was too old to be a real fan of the Old 97's, Murry Hammond says, but "he was a big fan of me."
In addition, the heartbreaking "No Mother" ("no no no mother should have to lose a son") is dedicated to Joel Svatek, a friend, stage technician and sometime T-shirt salesman who was killed by a drunken driver on the night of the Super Bowl in 2003.
"That's one reason people are getting a different record this time," Hammond says. "There's some seriously unhappy stuff on there.
"The big thing we were shooting for was really paying attention to the emotional depths of the material and to make a record we regard as fairly meaty. I think in the past we've put out what essentially amounted to a party record."
Although Hammond professes to hate vacations, he used the band's break to good advantage: He married singer-songwriter DeLisle. The other 97's also were busy, producing Aidan Merritt Peeples, Eliza Rose Bethea and Maxwell Iahn Miller. Rhett Miller also released his first solo album, "The Instigator."
Hammond and DeLisle had been "friends for years and years" but didn't connect romantically until she asked him to help with a song in 2000. Her new CD, "The Graceful Ghost," is an account of their courtship.
Hammond has played acoustic guitar at all of her gigs and has enjoyed the flowering of her career.
"It's real cute because a lot of this stuff she's doing for the first time, a lot of little first time successes, and she doesn't take anything for granted and is just thrilled with them," Hammond says. "It makes me realize I've gotten a little jaded, so it's neat being around her."
The stability of the Old 97's is signaled by its democratic way of crediting songs to the whole band, even though Hammond and Miller do much of the writing with major input from Bethea and Peeples.
"Basically, as a rule, if I'm singing a song, I wrote it, and if Rhett's singing, he wrote it," Hammond says.
"One thing with me is I can write music like crazy, but I have real trouble with the words. I'll say, 'Rhett, I can't do anything with this tune, I'm gonna throw it in the trash can.' And Rhett will go away and come back the next day with a finished song."
The band's stability also is due to the connection among the players, perhaps best shown in this line from the band bio written by Be[thea on the Old 97's Web site (www.old97s.com/index2.htm):
"This is a family. Brothers. Friends forever. Rock and rollers."