MELLENCAMP OFFERS A CONSISTENTLY GOOD CD
By Barry Gilbert
St. Louis Post-Dispatch
February 13, 2007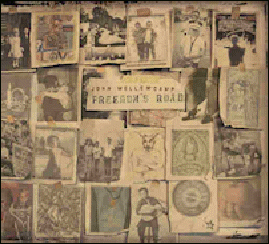 John Mellencamp
'Freedom's Road'
Universal Republic
Grade: B+

In his song "Christmas in Washington," Steve Earle implores Woody Guthrie to "come back ... come back to us now." On "Freedom's Road," John Mellencamp all but channels that legendary populist folksinger on a CD that celebrates the idea and ideals of America without ignoring the darker reality.

For his 21st album and first of original material since "Cuttin' Heads" in 2001, Mellencamp returns to the sound of his late-'80s period that produced the career-defining albums "Scarecrow," "The Lonesome Jubilee" and "Big Daddy": big guitars and drums, fiddle, percussion and the dynamic shifts that get concert crowds to their feet. "Heaven Is a Lonely Place" even adds some '60's-style garage rock.

But strip away all of that, and several of these songs - particularly the centerpiece single "Our Country" - are revealed as Guthrie-inspired, "This Land Is Your Land"-style folk songs. (Indeed, people who buy the exclusive Best Buy version of this disc will get a four-track bonus CD containing three acoustic versions.) Forget that "Our Country" is selling Chevy trucks. If that's all you've heard, you haven't heard the song. It's exciting to imagine how good it will sound paired with "Pink Houses" in concert.

"Someday" praises peacemakers and reminds us we're all in this together; "Forgiveness," with its chiming guitars, thanks God for the ability to recognize shortcomings and repair the world; "The Americans" celebrates what we all truly want to be; and "Ghost Towns Along the Highway" recognizes that love can flourish amid desolation.

But Mellencamp is still angry, as was Guthrie on records such as the classic "Dust Bowl Ballads." Mellencamp takes on racism and bigotry with duet partner Joan Baez on "Jim Crow," and catalogues the perversion of language and our ideals in Iraq on "Freedom's Road." And "Rural Route," inspired by a real crime that happened near his home in Bloomington, Ind., is a stark tale of rape, murder and addiction wrought by the methamphetamine plague in the Midwest.

Only one song personally targets President George W. Bush, albeit not by name, and it's a hidden track called "Rodeo Clown" that comes about three minutes after the end of "Heaven Is a Lonely Place": "Well there's blood on the hands of the rich politicians ... blood on the hands of those who keep silent ... the bloody red eyes of the rodeo clown."

Mellencamp is supported by his always great band and the multilayered harmonies of the country group Little Big Town. And if "Freedom's Road" doesn't quite equal the highest highs of his songbook, it's still a welcome surprise that sounds good every time it spins.