THRIVING AND SURVIVING AT 30

By Barry Gilbert
Of the Post-Dispatch
<![if !supportEmptyParas]> <![endif]>
August 5, 2004
<![if !supportEmptyParas]> <![endif]>
"Will the Wolf Survive?" Los Lobos asked in 1984 in a song that explores survival in a modern world. The answer, at least for these wolves, is yes.
For about 30 years, Los Lobos has survived while staying true to the band's roots in a recording climate that values the big hit and familiar sounds over vision and longevity. The members have played their mix of Spanish and Mexican folk music, rock, blues and country, leavened by electronic and ambient sounds, without regard to fashion.
<![if !vml]>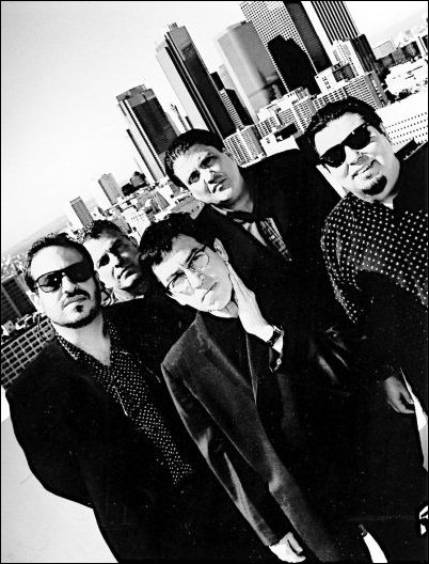 <![endif]>This year, the band that for nearly a decade played bars, weddings and anyplace in East Los Angeles that would pay them, before getting its big break, is celebrating its 30th anniversary.
But there's no "Thirtieth Anniversary Tour" of the country for guitarist David Hidalgo, multi-instrumentalist Louie Perez, guitarist Cesar Rosas, bassist Conrad Lozano and sax-keyboard player Steve Berlin. They prefer to keep things low key.
Earlier this year, they released "The Ride," a CD that looks back at the Los Lobos catalog with help from their musical heroes; this past weekend, for a DVD release, they played the legendary Fillmore Auditorium in San Francisco with a set list partly drawn up by fans; and on Tuesday, they released "Ride This: The Covers," a seven-track EP meant as a thank you to their heroes and fans.
Berlin, 48, a prolific sideman and producer in addition to his chores for Los Lobos, is still the "new kid" among the core members -- he joined in 1985 after the others had been working for a decade.
Filming their DVD at the Fillmore is particularly gratifying, Berlin says, because of all of its history. No '60s act had its full measure of credibility until it played promoter Bill Graham's house. And the ghosts of rock's past still take the stage.
"Yeah, there's a bunch of them, and they're everywhere," Berlin said last week from his home in Seattle a day before the Fillmore shows. "And they don't like it when you don't treat them with respect. We've had some pretty great shows there. But there are times, like when a guy shows up, say, indisposed (to play), the ghosts get very angry."
Berlin says it's "pretty amazing, really," that Los Lobos has rolled on for 30 years and that he's been with the same band for 20.
"Nobody sets out going, 'This is a job for life.' It just don't work that way. But having had it happen, I certainly like it," he says.
Berlin says that the only time he and his bandmates think about their run is when they have to put a record together.
"Normally," he says, "we don't really plan anything, we just sort of all show up (at the studio) on the appointed day and hope like hell songs come to us."
But for "The Ride," the band wanted to acknowledge its past by looking back and bringing in artists who had inspired them: Willie G., Bobby Womack, Richard Thompson, Dave Alvin, Elvis Costello, Mavis Staples, Ruben Blades, Tom Waits and others.
The challenge, however, was to make sure that the album sounded like a Los Lobos album and not a cheesy duets CD. Womack's turn on a pairing of Los Lobos' "Wicked Rain" and his "Across 110th Street" was made and then stripped back to sound more like Los Lobos and "less like '70s soul," Berlin says.
"But he was first guy in the room with us, and he was so inspiring, and it was so powerful to be in same room with this guy and watch him work," Berlin says.
One of the keys to Los Lobos' longevity is that the musicians don't talk down to their fans.
"We never have and never will. It's incumbent on us not to do that. Actually, 'La Bamba' cured us of that. It was a such a fluke," Berlin says, referring both to their version of the Ritchie Valens song and the 1987 movie itself.
Berlin says the band recorded the "La Bamba" tracks the way they'd make their own albums.
"The song was such a big hit, it was shocking, just amazing to us," he says. "But what that did was to keep us really sort of from ever wanting to make a compromise."
Berlin, a Philadelphia native, first became known in the LA music scene as the sax player in the Blasters, a rockabilly-R&B band fronted by Phil Alvin and featuring the songwriting of Alvin's guitarist brother, Dave. But Berlin jumped to Los Lobos when the Blasters began cutting back on horn parts and tensions began to erupt between the Alvins.
He was on the East Coast with the Blasters and flew back to California to play a wedding with Los Lobos.
Then, he simply called Dave Alvin to say he wouldn't be back.
The "Ride This" EP is a gift from Los Lobos to peers who helped with "The Ride" and to their fans.
"The question was, how could we ever repay them? Just saying thank you on the record (liner notes) seemed sort of cheesy," Berlin says. "At one point, we even thought of doing a streaming Web thing, and anybody who bought the record could download it.
Tracks on the EP are: "Jockey Full of Bourbon" (Tom Waits), "More Than I Can Stand" (Bobby Womack), "Uncomplicated" (Elvis Costello), "Patria" (Ruben Blades), "Shoot Out the Lights" (Richard Thompson), " It'll Never Be Over for Me" (Willie G. and Thee Midnighters), and "Marie Marie" (Dave Alvin), recorded live at the Aladdin Theater in Portland, Ore., in 1999.
When Los Lobos was preparing for the Fillmore shows, Berlin asked on the band's Web site (www.loslobos.org) for set-list suggestions, from old and rarely played tracks to covers people would like to hear. The response was immediate and overwhelming, Berlin says, and the requests were illuminating.
"A lot of people said 'Colossal Head' (1996) was a difficult record (to get into), but a lot of people want to hear songs from that record. That's very gratifying. And a lot of people want to hear things from our first records, some of the quiet, meditative things. So there's a constituency for both, and it's very interesting and very gratifying.
"People think of bands as remote creatures," Berlin says, "but we're just normal guys who put a recording studio in the garage."
<![if !supportEmptyParas]> <![endif]>