GUITAR MASTER TURNS TO OUD, BOUZOUKI

By Barry Gilbert
Of the Post-Dispatch
<![if !supportEmptyParas]> <![endif]>
July 8, 2004
<![if !supportEmptyParas]> <![endif]>
Even if you're not familiar with David Lindley's name, you've probably heard the guitar master's work.
Since the mid-'60s, Lindley has appeared as a sideman on hundreds of albums, from the "Trio" outings of Dolly Parton, Emmylou Harris and Linda Ronstadt to the jazz-and-blues excursions of Maria Muldaur; from the prototypical punk of Iggy Pop to the iconic rock of Bob Dylan; from the jangle of the Bangles to the spiritual pop of Amy Grant. Not to mention his collaborations with friends including Ry Cooder, Jackson Browne, Warren Zevon, David Crosby, Stephen Stills and Graham Nash.
<![if !vml]>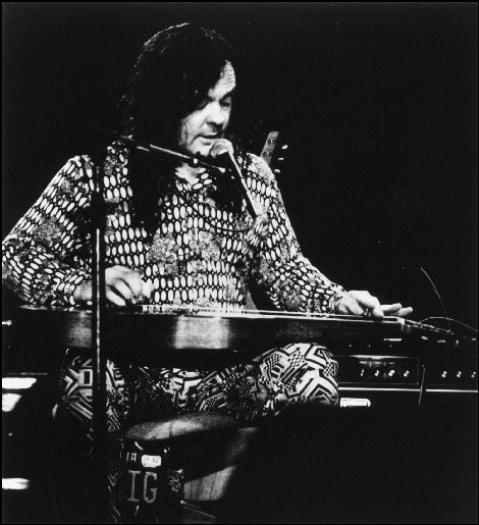 <![endif]>A champion banjo and fiddle player, Lindley performed in bluegrass and folk bands while a teenager about four decades ago in Southern California. In 1971, he co-founded what might have been the first "world music" rock band, the Kaleidoscope. And he has become an expert not only on Hawaiian lap steel guitar, but also on such exotic stringed instruments as the saz, oud and bouzouki.
Add to that his off-center sense of humor, wild hair and frightening wardrobe, and it's no wonder Mr. Dave -- as he refers to himself -- has escaped the horrors of mainstream success and riches.
But he has come close. Lindley's wild, propulsive, bang-on-the-steering-wheel version of "Mercury Blues," with his band El Rayo-X in 1981, cemented his rep with any slide-guitar fan lucky enough to have heard it.
"I was surprised the record company never released that as a single," says Lindley, 60, who opens for John Hiatt on Wednesday at the Pageant. "But they said it was too hard rock. It was during that poseur period, and I guess I didn't have the right hair for it."
Most recently a laid-back, mainstream country hit for Alan Jackson, "Mercury Blues" was written and first recorded by K.C. Douglas as "Mercury Boogie" in 1949.
Lindley heard the song when, in the 1960s, Kaleidescope shared a bill with the Steve Miller Band at an outdoor concert in Berkeley, Calif.
Miller's version definitely made an impression.
"I heard him do it that day and I said, 'Boyyyyyyy,'" Lindley says recently from his home in Southern California. "Then he did it again, on the record ("Fly Like an Eagle" in 1976), and it was a little different, and I said, 'Noooooooo. You got to do this fast, and have at least four double espressos, and then record it twice.'" Which was just about the approach that Lindley took.
"At the end of the second take we blew up the (mixing) board," he says. "There was smoke coming out of it."
El Rayo-X, which is playing some limited dates in California this summer, went on to record three more albums of rock, blues and reggae. But that band was "mainly a vehicle for two-part harmony and lots of slide playing. That's how I used to do things -- what's a good vehicle for this or that."
For his albums emphasizing the world sounds of the Turkish saz and chumbus, Middle Eastern oud and Irish bouzouki, Lindley has played in other combos, producing four discs of Malagasy music in the '90s with Henry Kaiser, two with Hani Naser and three, so far, with percussionist Wally Ingram. The Ingram CD's -- "Twango Bango Deluxe" (2000), "Twango Bango II" (2001) and "Twango Bango III" last year -- are closer in sound and spirit to the El Rayo-X discs.
Lindley is no stranger to touring solo, having done it in the '60s when he was performing in bluegrass bands such as the Smog City Trestle Hangers and the Mad Mountain Ramblers.
For this solo tour, Lindley will have his collection of instruments and will play a lot of the world tunes he has written.
"If you're working solo, the songs better be good," he says. "There'd better be something to them, and your playing has to be really, really good."
Lindley has devoted himself to learning all he can about the oud, a 12-string fretless lute.
"I'm finally understanding some of the techniques," he says. "It's very difficult to play in the traditional Turkish style, but I'm making headway. I sound more like a real oud player."
At first, he says, he modeled his playing after Turkey's Udi Hrant, who is known as the blind master of the oud.
Just as he has cross-pollinated musical styles, Lindley has begun modifying instruments, such as using fishing line to tie metal frets on a bouzouki.
"I kind of decided on my own scale on the bouzouki," he says, "and I have them threaded and they have their own sound. It's an amazing instrument."
For the future, Lindley plans to keep exploring the exotic sounds of the oud and other world-music instruments. But he's also eagerly awaiting another milestone.
"I'm at the edge of curmudgeonhood, poised at the threshold, and I can't wait," he says. "I'm gonna get me a cane and shake it at the neighborhood kids from the front porch."
<![if !supportEmptyParas]> <![endif]>