SOUL OF JOHN BLACK WILL FEATURE A BLUES FLAVOR
By Barry Gilbert
St. Louis Post-Dispatch
May 24, 2007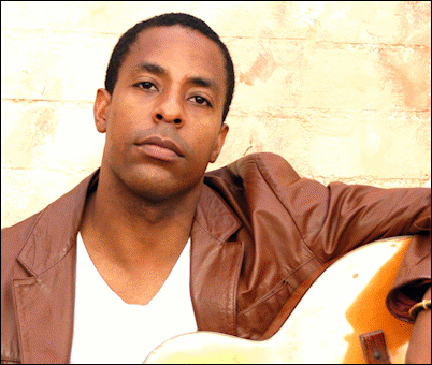 John Bigham

From the Air Force to parking valet to musician, Miles Davis to Fishbone to bandleader, jazz to funk to blues: These are the progressions of guitarist, drummer and keyboard player John Bigham.

Originally from Chicago, Bigham is on the road with the second incarnation of The Soul of John Black - his alter ego, and the name of the band he started in 2003, with St. Louis native Chris Thomas on bass.

Bigham is on his own on his second CD, "The Good Girl Blues," due June 5 (Thomas guests on only a couple of cuts). Now he's exploring the blues - from the dark field holler of "The Hole," the rock of "Good Girl" and the Al Green silk of "Fire Blues" to the swampy rhythms of "Slippin' and Slidin'" and the hip-hop beats of "Swamp Thang."

But don't accuse Bigham, who brings the Soul of John Black to the Lucas School House tonight, of conducting a blues history lesson.

"I have no reason to stick to any rules, with the blues or any other music," he said by phone recently from his home in Los Angeles. "I just wanted to have a blues flavor. I was not going for accuracy in any kind of style."

The CD is marked by Bigham's spare but exquisite guitars, equal amounts of electric slide and acoustic rhythm that frame each track. His solos are short and to the point, honed by playing in support of artists ranging from Dr. Dre and Eminem to Nikka Costa and Bruce Hornsby.

His big break, of course, was Davis, the legendary trumpet player from East St. Louis. That break easily might not have happened.

"My whole career started late. I came to it in 1985 from the military out here in Victorville, Calif.," said Bigham, who was playing then with DeBarge and some other acts. In 1987, when he was 28, a girlfriend gave Davis a Bigham demo tape, "which I would never have given to him. And it just happened, and I went from parking cars to working with Miles Davis.

"I would consider him one of my mentors," said Bigham, who played on Davis' final studio album, "Amanda," in 1989 and wrote one of its tracks, "Jilli."

"I would bring him ideas and, if he liked it, he'd just look at me and laugh, and just allow me to do whatever I wanted to do. I learned from him just by being around him."

Until The Soul of John Black, however, Bigham had never been a front man, and taking that step wasn't easy. Coming up with an alter ego made it easier.

"I always wanted to do it, but I couldn't, and all of a sudden I found this voice that felt like it was another part of me," he says. "That's my alter ego, when I'm a little bit freer. ... I also wanted to have in my music a slight bit of mystery and darkness."

Bigham promises to stretch out his solos when he takes the stage tonight with Kwan Hearns on bass and Karim Imes on drums. But while the show will draw from the breadth of his career, the audience will not be listening to a jazz trio.

"This is a power trio, not a jazz trio, we definitely don't go that route," Bigham says. "We're more like a Saturday nightclub band. You're playing and people are dancing, so you want to play another, then slow it down, then work up a sweat."