HEY, MAMA: HE'S STILL THE KILLER
By Barry Gilbert
St. Louis Post-Dispatch
November 14, 2006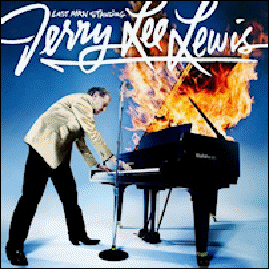 Jerry Lee Lewis
"Last Man Standing"
Grade: A-

''Last Man Standing'' may not measure up to the old "All Killer, No Filler" promise, but Jerry Lee Lewis' new album is better than we had any right to expect. Is it more essential than every note he cut for Sun Records in the '50s? No. Better than most of his country output in the '60s for Mercury? No.

But ''Last Man Standing'' is thoroughly enjoyable on its own terms. And despite the presence of high-profile guests on each of its 21 tracks -- 21 tracks! -- nobody is propping the old man up. This is a Jerry Lee Lewis CD, his first studio album in 11 years, and not a pity party.

The title refers to the so-called Million Dollar Quartet at Sun Records in the '50s: Lewis, Elvis Presley, Johnny Cash and Carl Perkins. Add to the list Roy Orbison and Charlie Rich and a host of others. It's remarkable that Jerry Lee is the survivor.

The voice, to be sure, is weathered. At a hard-driven 71, Lewis' voice is thickened with age, far from the lewd and elastic weapon of "Great Balls of Fire" and "Whole Lotta Shakin' Goin' On." But, oh, those hands; Lewis can still raise the devil on piano, that mighty left hand pounding out the rhythm, the right hand alternately righteous and randy.

"It's been a long time since I rock and rolled," Lewis sings at the outset of the first track, Led Zeppelin's "Rock and Roll," with Jimmy Page on board for guitar support. But this track is indicative of the entire album: Page is following Lewis, and Lewis is treating the song as though Led Zep never existed, swerving around the melody, invoking his own name and giving Page a good race.

Lewis, as he has throughout his career, spices the mix with gospel touches as he wrestles with sin and salvation. And now he's looking back on the wonder of it all, but without any maudlin, September-of-my-years ruminations. As he ad libs on Kris Kristofferson's "The Pilgrim," "the going up was worth the coming down."

Lewis rocks with Bruce Springsteen ("Pink Cadillac") and Kid Rock ("Honky Tonk Woman"); sings the blues with B.B. King ("Before the Night Is Over"), Eric Clapton ("Trouble in Mind") and Buddy Guy ("Hadacol Boogie"); and weeps some country with George Jones ("Don't Be Ashamed of Your Age"), Merle Haggard ("Just a Bummin' Around") and Willie Nelson ("Couple More Years").

He even rolls with some Stones: Mick Jagger and Ronnie Wood on "Evening Gown," and Keith Richards on "That Kind of Fool." And for unadulterated fun, Little Richard sings some harmony and provides the McCartney-esque "oooooohs" on "I Saw Her Standing There." Neil Young, Robbie Robertson, John Fogerty, Rod Stewart, Toby Keith, Delaney Bramlett and Don Henley also drop in.

Take all of those guests away, and this is still a fine Jerry Lee Lewis record, the work of a stylist unafraid to turn a song inside out and make it his own. And as a bonus, the CD package contains a long essay with Lewis by Presley biographer Peter Guralnick.

Rock on, Killer.