CHRIS HILLMAN HELPED INVENT COUNTRY ROCK
By Barry Gilbert
St. Louis Post-Dispatch
August 2, 2007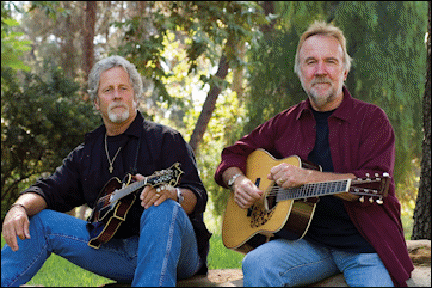 Chris Hillman (left) and Herb Pedersen

Chris Hillman's résumé was already impressive: member of the Byrds (1965-68), co-founder of the Flying Burrito Brothers (1969-72) and founder of the Desert Rose Band (1985-93), plus numerous solo, duo, trio and band projects. But these days, one more entry brings him comfort, joy and pride:

"I'm the only hillbilly tenor in the Greek (Eastern) Orthodox choir in Santa Barbara, Calif.," laughs Hillman, one of the architects of country rock with Roger McGuinn, David Crosby, Stephen Stills, Neil Young, Richie Furay and, especially, Gram Parsons.

But it's not a joke for Hillman, who began his musical life as a bluegrass mandolin player before joining the Byrds in 1965. When he's not singing Byzantine chants with his church choir, he's often on the road with fellow picker and longtime partner Herb Pedersen, with whom he's scheduled to perform tonight at the VooDoo Café & Lounge.

Hillman converted to the Eastern church a decade ago after becoming an evangelical Christian in the early '80s. He calls his most recent CD, "The Other Side" (2005), his gospel album. It's a lovely collection of spiritual numbers, save for a couple of secular cuts - including an acoustic version of the Byrds' "Eight Miles High."

During a phone conversation from his California home, Hillman, 62, says more than once that he's basically retired. But he's due back on the road the next day.

"I'm doing the same old thing, in more of a pure state, acoustic," he says. "When we do our show, Herb and I, it's a guitar and mandolin. So, we don't plug in, there are no pickups anywhere on stage. That does not mean that we can't do everything, from the Byrds to the Flying Burrito Brothers through all of it, and it comes out quite well. It's a challenge."

Going from electric to acoustic is no big deal for a musician who started out unplugged. But the transition from being a member of the bluegrass Hillmen to the Byrds wasn't so easy. Every member of that band - Hillman, Crosby, McGuinn, Gene Clark and Michael Clarke - came from an acoustic background and, all but Hillman, from folk music.

"None of us were rock 'n' roll players," Hillman says. "We had no idea how to play it, we didn't have a blueprint, we didn't know what we were doing. We literally plugged into the wall with our amplifiers and said, 'Now, what do we do?'

"When I showed up for the first rehearsal - they called me to play bass - I had no idea. 'Sure I can play the bass.' I didn't know how to play the bass. I didn't figure it out till probably the second album. But they didn't know how to play (electric rock), either. That's what made it unique."

Drummer Clarke didn't even own drums; he bashed away on cardboard boxes in early rehearsals. But Hillman knew that the Byrds, who invented folk-rock and brought Bob Dylan to the masses with "Mr. Tambourine Man," could be special.

"I had a feeling, because when (McGuinn, Crosby and Clark) sang, it was magical," Hillman says.

Later, as the Byrds lineup became a revolving door, Parsons was invited in to play keyboards. His influence pushed the band toward country and the classic "Sweetheart of the Rodeo" LP.

Parsons "was an ally in country music. When he came on board, boy I had somebody else who liked the music I liked. Because nobody liked what I liked in the band. Crosby used to make fun of it all the time," Hillman says, laughing.

"When (Crosby Stills and Nash) put out 'Teach Your Children' with Jerry Garcia playing steel guitar, I said, 'Now you like it, don't ya.'"