FORTUNATE SON

With legal battles behind him, John Fogerty adds credence
to the notion that he's undergone a personal revival with the help of his new CD.
By Barry Gilbert
St. Louis Post-Dispatch
November 29, 2007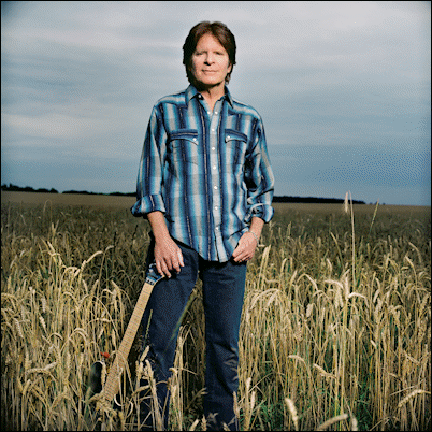 "You can't go wrong if you play a little bit of that Creedence song."
- John Fogerty, "Creedence Song"
For many years after the breakup of his landmark band Creedence Clearwater Revival, John Fogerty refused to perform those iconic songs, from "Proud Mary" to "Fortunate Son." When he recorded new tunes, he tried not to sound too much like that band.
Some people thought that Fogerty, who battled his old record label in court for decades, was just stubborn, or that he had a chip on his shoulder. Turns out it wasn't a chip; it was an evil gremlin.
"I was in my studio, and I was kind of working with that swamp beat, and, this particular day, I actually got the idea of 'Creedence Song,'" Fogerty, caught recently on his tour bus en route to a show in Connecticut, said of the nostalgia-drenched track from his great new CD, "Revival."
"And as I sang kind of nonsense vowels, working up a melody, the phrase 'Creedence song' popped out of me. And as has happened many, many times in the past, a little gremlin came up on my shoulder, because I was sounding very Creedence-y, and the little devil gremlin said, 'You can't sound like that, I'm gonna sue you!'"
Go back a couple of decades to "Centerfield," only the second of Fogerty's albums not on Fantasy records, which held the rights to all of his previous songs. The swampy track "Old Man Down the Road" has that CCR vibe - and Fantasy boss Saul Zantz sues Fogerty, accusing him of plagiarism. Of sounding like himself.
Back to the present:
"I've had this happen a million times," Fogerty says. He would chafe "because of the whole plagiarism thing, and that would be the end of whatever song I was working on. It just killed it.
"But this time, I actually kind of turned to my left and looked at the thing, metaphorically at least, and I said: 'Get out of my life, go away, you don't belong here, and I don't want you here.' And poof - it disappeared. And I went forward and wrote the song."
And then he wrote a bunch more, from the confessional centerpiece "Broken Down Cowboy," to the call for a societal savior "Gunslinger," to the angry, anti-war and anti-George W. Bush song, "Long Dark Night" - a "Fortunate Son" for a new war.
His legal battles behind him, Fogerty recently re-signed with Fantasy, which is under new ownership, and has thereby unified his past and present. The title "Revival" seems to speak to this business renaissance, but Fogerty says it actually has a much deeper significance.
"Actually, my wife, Julie, named the album and, to her, revival was really talking about my personal life. Having come from an early start, you might say, as a young guy, when things were really going well, and then going through that long, lost highway through the valley of depression," he said. "And coming out the other end and being OK, to where my personal life is really great now. I feel like a guy who has won the all-time lottery, as far as meeting my beautiful wife and raising a great family.
"So I really don't worry about the career so much anymore, like all those times when it seemed like lawyers were mostly who I talked to. That's really what the revival is. It seems to have allowed me to see this sort of music that I'm really good at."
One song on "Revival" that has earned Fogerty a lot of feedback is "Summer of Love," an homage - and a near sound-alike - to the music of Cream. But don't suggest that because Fogerty wasn't actually in San Francisco in the summer of 1967, he was not connected to that scene.
"No, no that's not quite accurate," he says. "Politically, I'm still there. I'm the same guy, philosophically. I didn't change with all the Reaganites and the yuppies. I remained who I am, because I was that way before those days.
"As far as hanging out with the Grateful Dead and dropping acid: No, I kind of never thought that was a cool thing to do. I thought you might wake up dead.
"The other thing that's funny to me is, people point out well, yeah, Creedence or John Fogerty was not part of the Summer of Love. I kind of go, well, what do you mean? They're being specific: that when I was singing 'Proud Mary,' it wasn't in the Summer of Love.
"And I kind of go, well, to sing 'Proud Mary' at all is kind of a reach, because I had never seen the Mississippi River, either, you know? It's creating something with literary license."