JOE ELY, BUTCH HANCOCK DELIVER CONTRASTING ALBUMS
By Barry Gilbert
St. Louis Post-Dispatch
March 20, 2007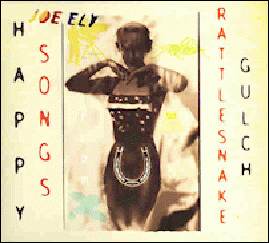 Joe Ely
"Happy Songs From Rattlesnake Gulch"
Rock'em Records
Grade: B




Joe Ely and Butch Hancock are back with new CDs, accounting for two-thirds of the Flatlanders. But that's where similarities end, as Ely recalls his mid-'80s rock period while Hancock, the least-known of the trio with Jimmie Dale Gilmore, delivers a heavy folk protest album.




Ely's CD, "Happy Songs From Rattlesnake Gulch," is populated by people and stories inspired by his 30 years on the road. It's a companion piece to "Bonfire of Roadmaps," a collection of his journal writings and drawings that was published last month.

Few have worn the mantle of Texas cool as well as Amarillo-born, Lubbock-reared Ely. Like the late Doug Sahm, he is impossible to pigeonhole, equally at home with rock, hard country, Tex-Mex and flamenco, and the blues.

"Happy Songs" kicks off with a slinky rocker that's about as topical as Ely gets: People are starving and thirsty, people are dying and oppressed, the Texas summers are too freaking hot, but "Baby Needs a New Pair of Shoes."

Around a cover of Hancock's "Firewater." we meet the "Hard Luck Saint," an immigrant who makes his way from New York to the Texas oilfields; "Jesse Justice," a "rovin' gambler" whose call is nine ball; and a woman named Sue ("sue me, Sue, you don't need no Race Horse Haynes to prosecute my love") who's caught Ely's attention. We also get a travelogue of Austin nightlife, from Antone's to the Continental Club to the Broken Spoke, in "River Fever."

The highlight is "Miss Bonnie and Mr. Clyde," a rewrite of Ely's hilarious classic "Me and Billy the Kid." Remember? They never got along. In the new song, Ely falls in with the legendary bank robbers, attracts the eye of Miss Bonnie and the subsequent wrath of Mr. Clyde. The action, and the lyrics, unfold at top speed over six supersize verses.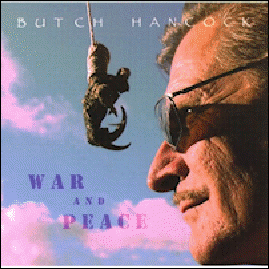 Butch Hancock
"War and Peace"
Two Roads Records
Grade: B-




Hancock has always been more of an acquired taste. With his desert dry - and wry - voice, the Terlingua, Texas, resident spent many years self-releasing cassettes at shows. Several of his songs, such as "Fools Fall in Love," "If You Were a Bluebird" and "West Texas Waltz," won wider audiences via Ely and Gilmore, who rarely failed to include a Hancock song on their solo releases.

The title of Hancock's new work, his first solo CD in nine years, says it all: "War and Peace." It's not an easy listen despite warm and familiar musical styles hewing mainly to old-time folk and '60s folk-rock.

Hancock, who plays all instruments except for electric guitar (Rob Gjersoe) and gets some harmony help from Gilmore and Ely, begins with an a capella prayer, "Give Them Water," advising, "All weapons you hold deep within your hearts, you must disarm them."

In fact, Hancock infuses this record with a strong sense of spirituality, but not of the "God is on our side" variety. In "Damage Done," he warns that the damage we do with "desert shields and dirty deals and dim lines drawn in the dust" damages us, collectively and individually, as well as others. And in "When the Good and the Bad Get Ugly," he writes, the "devil don't care who wins."

Meanwhile, the "Old Man" - aka God - has a long list of sinners he plans on sending straight to hell, from gossips to liars, president to pope, so many people of all stripes that you begin to think, whoa, God wouldn't do that. Then the Old Man has the last word: "... You forget I let my kid die on the cross."

Hancock closes "War and Peace" in full Woody Guthrie mode with "Great Election Day," an exhortation to do the right thing at the polls and vote for men and women of peace - and above all: No voting machines. As he sings in "Cast the Devils Out," "mark your ballots in the light, be sure they count 'em right."