Alan Jackson | "Like Red on a Rose" | Grade: A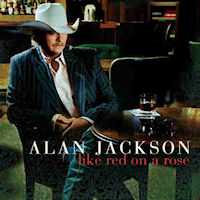 Nothing here even faintly echoes "Mercury Blues" or "It's Five O'clock Somewhere." Country mainly because Alan Jackson's wearing a hat -- and he has that velvety, traditional country voice -- "Rose" is produced by Alison Krauss and displays the same kind of minimalist vibe that the bluegrass queen uses on her solo records.
An all-star band featuring some of Krauss' Union Station players supports Jackson with subtle grace, and keyboards provide some churchy R&B shading.
"I hope my song is what you're longing for,/ I don't sing like I used to/ Sometimes less is more," Jackson sings on "The Firefly's Song," written by Robert Lee Castleman, a Krauss protégé.
"Rose" is a blues album, if the definition can be expanded to a collection of songs that largely ooze contentment, gratitude and love, leavened by the wisdom of how fragile all of that can be. It's the sound of a bar late at night, and one of the last drinkers plays Sinatra on the jukebox.
Jackson is a fine writer, but here he relies on others for all but one of the 13 tracks, the thank-you note "A Woman's Love."
Other standout tracks include "Good Imitation of the Blues," Herb Pederson's "Wait a Minute," and "Had It Not Been You," in which the father of three daughters sings that "the girls wouldn't look anything like they do . . . had it not been you."
"Like Red on a Rose" is Jackson's second CD this year, following "Precious Memories," a gospel album that was also a big departure. It was a success commercially, and so is "Rose," which reached No. 1 on the country chart and No. 4 on Billboard's Top 200.
It was apparent from the first neo-traditional honky-tonk notes of 1989's "Here in the Real World" that Jackson was the real deal, an artist of integrity and sincerity. Nothing since has altered that judgment.