JIMMY BUFFETT SAILS SMOOTHLY WITH THE WEATHER
By Barry Gilbert
St. Louis Post-Dispatch
October 31, 2006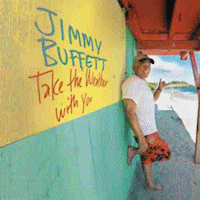 'Take the Weather With You'
Mailboat/RCA
Grade: B+
For anyone who feared that the success of the country duets CD "License to Chill" had sent Jimmy Buffett over to the Nashville side, well, as Buffett would say, breathe in, breathe out, move on.
"Take the Weather With You" is like a well-broken-in pair of flip-flops, nice and loose and comfortable. Although it starts with the fine "Bama Breeze," a country tribute to a Cheers-style bar, the steel drums are back. So are the island rhythms and escapist anthems. But they mask, as always, more serious themes, including Hurricane Katrina, terrorism and hopelessness, and our feelings of disconnect as we amass more gadgets to keep us electronically tethered.
Only four of the CD's 14 songs are co-written by Buffett, a strikingly low number. But he has always had a knack of picking great cover songs and making them his own: Sam Cooke's "Another Saturday Night," Van Morrison's "Brown Eyed Girl" and Crosby, Stills and Nash's "Southern Cross," to name just three.
The CD title comes from Crowded House's "Weather With You" and fits right into Buffett's obsessions with sailing and flying. Jesse Winchester's 1977 tune "Nothin' But a Breeze" recognizes that, now, the pirate is looking at 60. And Mark Knopfler's "Whoop de Doo," with the ex-Dire Straits leader on guitar, exercises Buffett's fondness for lounge-style love ballads, and he turns in one of his best vocals in recent years.
But it's not all margaritas and sunshine, despite the pulsating steel drums of Robert Greenidge and the intertwined keyboards of Mike Utley.
"Roadside bombers and tsunamis/Oh God how I miss those Commies/No one seems to play fair anymore," Buffett sings on his "Party At the End of the World," and he turns spiritual on Michael Garrett's "Regabilly Hill" and Mary Gauthier's New Orleans infused "Wheel Inside the Wheel."
And in "Breathe In, Breathe Out, Move On," Buffett taps into the resignation, if not the anger, of post-Katrina New Orleans ("and it poured/the earth began to strain/Ponchartrain buried the Ninth Ward/to the second floor").
Less successful are his cover of Merle Haggard's "Silver Wings," which captures none of the Hag's pain; the lovely but inconsequential "Hula Girl at Heart"; and the CD closing "Duke's on Sunday," escapism with a capital E.
But Buffett scores far more than he misses, and the Coral Reefer Band is in all-star form with its roster of recording artists: St. Louisans Peter Mayer (guitar), Jim Mayer (bass) and Roger Guth (drums) of the Peter Mayer Group; Greenidge and Utley of Club Trini; singer-songwriter Mac McAnally; and slide-guitarist Sonny Landreth. Even former Reefer Greg "Fingers" Taylor is back to blow some harp.
As he did on "License to Chill," Buffett sounds totally engaged, and "Take the Weather With You" will sound great in concert. It's his best effort in years.