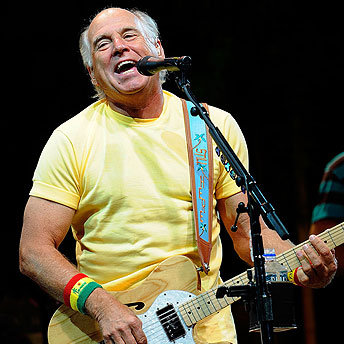 The few brave men wearing hula skirts froze their coconut bras off, and everybody else covered their Hawaiian shirts with jackets and sweaters. But Jimmy Buffett and his magnificent Coral Reefer Band lit a fire under the party at Verizon Wireless Amphitheater on Tuesday night.

Or make that Jimmy Buffett Inc. Concertgoers jamming through the gates of the venue were greeted with endless signs for Buffett's trademarked beer, booze and food products, which the entrepreneur of seemingly all things has produced in the past two decades. So it was fitting that the opening act for the pilot, sailor, songwriter, novelist, nightclub owner and now hotelier (Margaritaville Beach Hotel in Pensacola, Fla.) was Ilo Ferreira of Cape Verde Islands, an artist on Buffett's Mailboat Records.

Thankfully, the music put the merchandising in the background as Buffett ran through 26 songs over more than two hours in a performance that was sparkling, if somewhat subdued, possibly due to a brisk breeze and a temperature in the low 50s when the lights went down. The singer's only concession to the chill was a long-sleeve, beach-style hoodie over blue shorts and bare feet.

The Welcome to Fin Land Tour show, set on a stage dressed in pastel retro-cabana colors and backed by a huge video screen, was more steeped in nostalgia than even the usual Buffett affair. Seventeen songs came from the '70s, only one was recorded in the 2000s and Buffett ignored his most recent album, "Buffet Hotel" (2009). But the emphasis on oldies was also an opportunity for fans to hear some rarely performed tunes, including "Peanut Butter Conspiracy," "Nautical Wheelers" and "The
SET LIST
1. "The Wino and I Know"
2. "Brown Eyed Girl"
3. "Off to See the Lizard"
4. "Havana Daydreaming"
5. "It's Five O'Clock Somewhere"
6. "Changes in Latitudes, Changes in Attitudes"
7. "Life is Just a Tire Swing"
8. "Come Monday"
9. "Peanut Butter Conspiracy"
10. "Son of a Son of a Sailor"
11. "School Boy Heart"
12. "Cheeseburger in Paradise"
13. "One Particular Harbor"
14. "Use Me" (Nadirah Shakoor)
15. "Trying to Reason With Hurricane Season"
16. "Nautical Wheelers"
17. "Pencil Thin Mustache"
18. "Volcano"
19. "Margaritaville"
20. "A Pirate Looks at Forty"
21. "The City" (Mac McAnally)
22. "Fins"
23. "Southern Cross"
Encore
24. "The Great Filling Station Holdup"
25. "Last Man Standing"
26. "Stories We Could Tell"
Great Filling Station Holdup."

Buffett, 64 and in his fifth decade of performing, also was in full interactive mode, flashing video and stills of local landmarks and fans, and thanking front-row Parrotheads who held up a sign reassuring the singer that they would catch him if he fell off the edge of the stage like he did in January.

"Where were you in Australia?" Buffett asked. "No it wasn't a publicity stunt, but I don't think Donald Trump believes it."

Buffett then immortalized the accident with a rewritten final verse of "Off to See the Lizard," blaming the mishap on a Kardashian distraction. Another accident, this of the traffic variety years ago on the road from Carbondale to Peoria, Ill., was related in "Life Is Just a Tire Swing," another rarely performed song from the early days.

He also paid tribute to "the lawn people" and noted the attendance of many children who, he cracked, might have been the product of "love on the lawn" years ago during a performance of his hit "Come Monday."

Buffett's band, packed with recording artists in their own right, also got space to solo. Grammy-winning guitarist and songwriter Mac McAnally sang with Buffett on two songs, standing in for Alan Jackson on the duet "It's Five O'Clock Somewhere" and McAnally's "The City," and the wonderful singer Nadirah Shakoor was featured solo on a cover of Bill Withers' "Use Me." Standouts included the St. Louis-bred core of guitarist Peter Mayer, bassist Jim Mayer and drummer Roger Guth; steel drum master Robert Greenidge; pedal steel player Doyle Grisham; and trumpet player John Lovell.

But no Buffett show is complete without the must-play standards, and the Coral Reefers did not disappoint. "Cheeseburger in Paradise," "One Particular Harbor," "Margaritaville" and "Fins" kept fans who stood throughout the show dancing in place.

The final two songs included the appropriate "Last Man Standing," performed in front of a slide of a Ted Drewes store that had Jim Mayer pumping his fist, and "Stories We Could Tell," introduced by Buffett with a thank you to the Navy SEALs who took down Osama bin Laden. Those guys, Buffett said, will have some stories to tell. And so will concertgoers who took a chilly spring cruise to Fin Land.