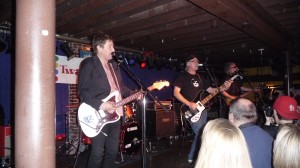 By Barry Gilbert
The Cardinals may have dropped out of first place in the NL Central on Sunday, but on Saturday night they led the majors in song as the Baseball Project hit it out of Blueberry Hill's Duck Room to close out Twangfest 15 in St. Louis.
Veteran rockers Steve Wynn, Mike Mills, Scott McCaughey and Linda Pitmon, wearing their twin passions for music and baseball like a uniform, tore through 14 tracks from their two CDs as the Baseball Project. And for extra innings, they connected on songs from some of Wynn, McCaughey and Mills' other bands: Dream Syndicate, the Minus 5 and R.E.M., respectively.
Twangfest, which became Flood Fest on Friday night when storms outside caused floor drains inside the Duck Room to back up and leave an inch or so of stinky water underfoot, was threatened again Saturday when water started rising just about showtime. But the Blueberry Hill crew dealt with it quickly, and opening act Marah went on just a bit more than a half-hour late.
Continue reading The Baseball Project hits it out at Twangfest 15 →