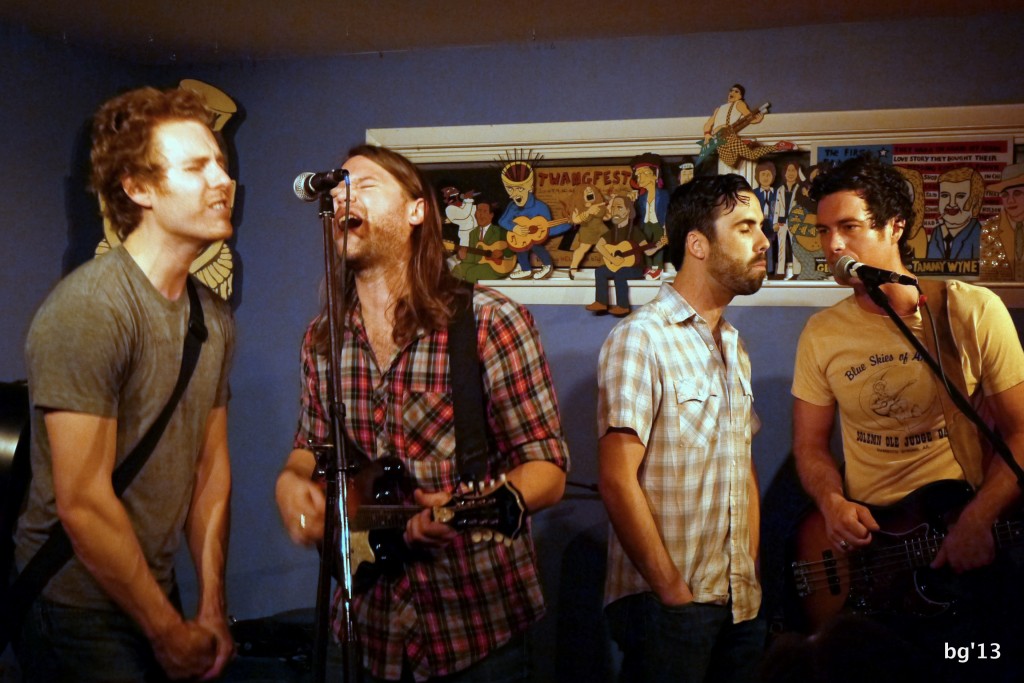 By Barry Gilbert
I will stand on Bob Dylan's coffee table — or Steve Earle's — and tell the world that Ha Ha Tonka is a great band. I can't think of another band that simultaneously rocks as hard, writes as well and sings four-part harmonies as exquisitely as does this Ozarks-based quartet.
Brian Roberts, Brett Anderson, Lucas Long and Lennon Bone pulled into Clayton, Mo., last night (June 19, 2013) for their second house-concert date ever and wowed the 70 or so folks in Wood House Concerts' kitchen/family room.
Lead-vocalist Roberts admitted it was terrifying playing within arm's reach of an audience. Then he doubled down on the terror by devoting the first of two sets to new material: 10 songs from the band's upcoming fourth album, Lessons, due for release on Bloodshot Records on Sept. 24. Most of the tunes had not been played previously in public, and some not since they were recorded.
But that was the second surprise. The first was the unusual move of beginning the show by playing an interview with the late children's book author Maurice Sendak. The interview was conducted by NPR's Terry Gross on "Fresh Air" in December 2011, less than five months before Sendak's death at age 83. In the interview, Sendak talks about his then-just-published "Bumble-Ardy," the story of a 9-year-old boy — well, a pig — who has never had a birthday party.
Continue reading Ha Ha Tonka teaches new "Lessons" in St. Louis house concert →