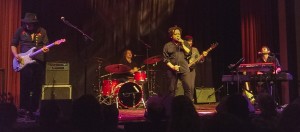 By Barry Gilbert
CHICAGO  (Nov. 16, 2013) // Some fans had waited for years, even decades, to see Garland Jeffreys on Saturday night. And that wait was more than worth it when the veteran rocker took the stage at the Old Town School of Folk Music in Chicago.
Jeffreys, who wears his New York City hometown like a suit of armor, came out at full speed with "Coney Island Winter" from his 2011 comeback album, "The King of in Between": "Politician kiss my ass/ your promises break like glass," he sang, the poetry and beat slamming at a country in crumbling decline.
But every song about liars, scam artists and abusers also showed the way toward redemption, truth and love. Jeffreys is ultimately a powerful, positive artist who radiates warmth and honesty and gets it back in kind from his audience. This show ended in a love fest that included a spontaneous third encore – his band had already tossed set lists into the crowd, and it took a few minutes for the players to heed the boss' call to return.
Jeffreys, 70, also made a deal with his audience regarding his daughter Savannah, 16 (yes, 16!): "When my daughter comes to Northwestern (University), I expect you all to watch out for her."
"We will," the crowd answered.
Jeffreys is a Brooklyn, N.Y.-born singer/songwriter who has released just 12 studio albums in his 43-year career. His mixed heritage – Puerto Rican and African-American – is mirrored in his music, which embraces rock, soul, R&B and reggae. His lyrics often deal with the challenges and responsibilities of being "other," such as in "I May Not Be Your Kind," "It's What I Am" ("… too white to be black, too black to be white … I'm one of them, it's what I am") and in "Hail Hail Rock 'n Roll":
Father of coal, mother of pearl/
Never too black to blush to pick up a white girl/
The color of you, the color of me/
You can't judge a man by looking at the marque/
His set spanned 16 songs and almost 90 minutes, backed by an excellent four-piece band featuring Mark Bosch on guitar, Brian Stanley on bass, Tom Curiano on drums and Gray Reinhard on keyboards.