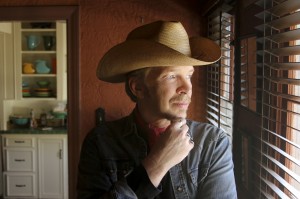 By Barry Gilbert
Dave Alvin has become one of America's greatest songwriters and guitar players. His early work with the punk-fueled R&B/rockabilly band the Blasters has matured into an adventurous exploration of American roots music encompassing folk, country and the blues.
His story and love songs are rooted in real people, ordinary working people facing personal and societal challenges yet somehow hanging on to a sliver of hope. Among his best: "Fourth of July," "King of California," "Ashgrove" and the new "Gary, Indiana 1959," plus exquisite co-writes with Tom Russell on "Haley's Comet," "California Snow" and "Out in California."
I interviewed Alvin for a Post-Dispatch story on June 14, 2011. I reached him on a tour stop in Asheville, N.C., about 11 o'clock in the morning — early for a working musician — and he apologized for not being totally awake. Here is a transcript of that interview, lightly edited for length and clarity.
We began by talking about Chris Gaffney, a fine singer-songwriter and accordion player and Alvin's best friend who died of liver cancer at age 57 on April 17, 2008. Gaffney recorded with his own band as well as the great Hacienda Brothers, and he was a member of Alvin's Guilty Men.
I told Dave I bought my first Gaffney album, "Chris Gaffney & the Cold Hard Facts," in 1989 based only on the title and band name and became a fan instantly. I talked to Gaffney a couple of times at Alvin shows, and enjoyed the conversations.
Gaffney's death hit Alvin hard.
DA: I could go on for hours. He was my best friend. He got all my jokes.
BG: Yeah, that is the mark of a best friend, isn't it.
DA: That is the mark of a best friend (laughing).
BG: And if they don't, they just pretend they do.
DA: He never pretended. He would let me know, on a scale of 1 to 10, how good the jokes were.
BG: "Two Lucky Bums" (on "Eleven Eleven") of course is a duet with Chris. You had originally offered that as a download. And it's that version I assume that's on the CD.
DA: Yeah. I cut a couple of other songs for the record, and when I was piecing things together it kind of made sense to put it on and hold a couple of other things. … That just kind of summed everything up.
BG: There is a subtext of mortality on the new CD. Is that the influence of Chris' passing, or is it bigger than that?
Continue reading Dave Alvin on mortality, happenstance and 'Eleven Eleven' →