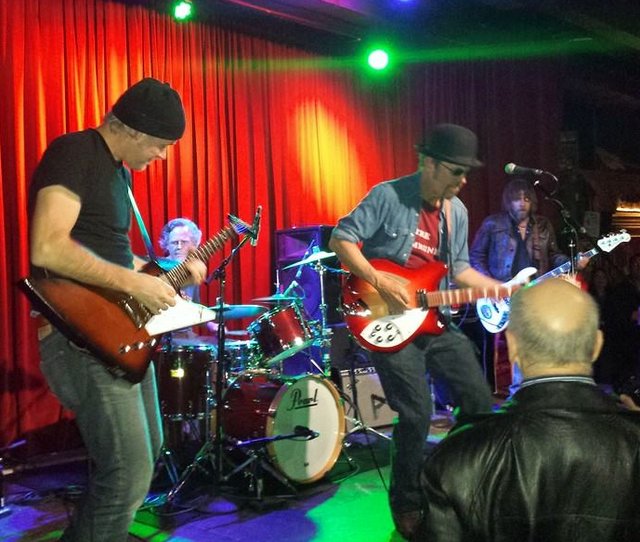 By Barry Gilbert
The Bottle Rockets celebrated the reissue of their first two albums plus their 20th anniversary Saturday night in St. Louis and emphasized from the first note that they would not only look back, they would lean forward. So, in a rather audacious move, the hometown band opened with a new song.
"Monday (Every Time I Turn Around)" was enthusiastically received by a full house at the Off Broadway music venue and was balanced nicely by a couple of songs that have never been recorded by the Bottle Rockets, songs that are among way-back demos included as bonus tracks in the reissue package of the band's first two albums, "Bottle Rockets" (1993) and "The Brooklyn Side" (1994).
The band, on what frontman Brian Henneman called its "One Foot in the Future, One Foot in the Past" tour, demonstrated again the depth and range of its extraordinary catalogue. The show was one of the best I've ever heard the Brox play.
Henneman apparently felt the same way, posting Sunday on Facebook: "Fantastic St. Louis show last night. Maybe my favorite ever." Later in the day, he wrote: "Saturday, we had a room full of music fans on a cold, snowy night, lovin' every minute of what we were doin'. We were lovin' that they were lovin' it. I guarantee ya we appreciate things like that more than the average music fan's average rock star does."
Throughout the show, Henneman kept his between-song chatter, which is never unwelcome, to a minimum, choosing to match musical quality with musical quantity. Bassist Keith Voegele and drummer Mark Ortmann were in tight synch; guitarist John Horton, who joined the band with Voegele about 2006, turned in one of his best nights as a Bottle Rocket; and the interplay between Horton's and Henneman's guitars was thrilling.
Continue reading The Bottle Rockets lean forward into the past on 20th anniversary tour →