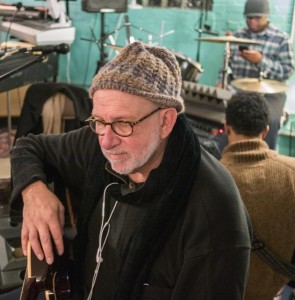 By Barry Gilbert
Special to the St. Louis Jewish Light
Brothers Lazaroff's Hanukkah Hullabaloo, which began just three years ago as a humble holiday party after a Kinky Friedman concert, has grown into a music, dining and cultural experience bringing together multiple strands of the St. Louis Jewish community.
The event has broken out of the confines of its original home at Off Broadway in south St. Louis and moved to the Plush restaurant and nightclub in midtown. The third edition Dec. 4 will offer a separate-admission "tish," or teaching dinner, led by rabbis; music ranging from rock, doo-wop and hip-hop to klezmer and acid-jazz; special readings; and DJ sets.
The centerpieces of the first two Hullabaloos will return: latkes prepared and served live onstage; and a performance of Rabbi James Stone Goodman's Hanukkah epic "Eight Days," backed by the Eight Nights Orchestra: Brothers Lazaroff with members of the Funky Butt Brass Band, Will Soll's Klezmer Conspiracy and the Vaad.
The big change this year is the inclusion of several organizations, or presenting partners, representing the arts, social justice activists and creative entrepreneurs.
All proceeds from the general admission ($10 minimum donation) and the tish ($36 per person) will go to One Life-One World, an organization founded by Goodman at Congregation Neve Shalom that offers programs in prison outreach, mental illness and addiction. Last year's Hullabaloo raised $1,500.
David and Jeff Lazaroff say the expansion of the Hullabaloo and the move to Plush are basically a happy coincidence.
"We were surprised by the community turnout (last year), and they wanted to sit," David Lazaroff says.
Continue reading at the St. Louis Jewish Light