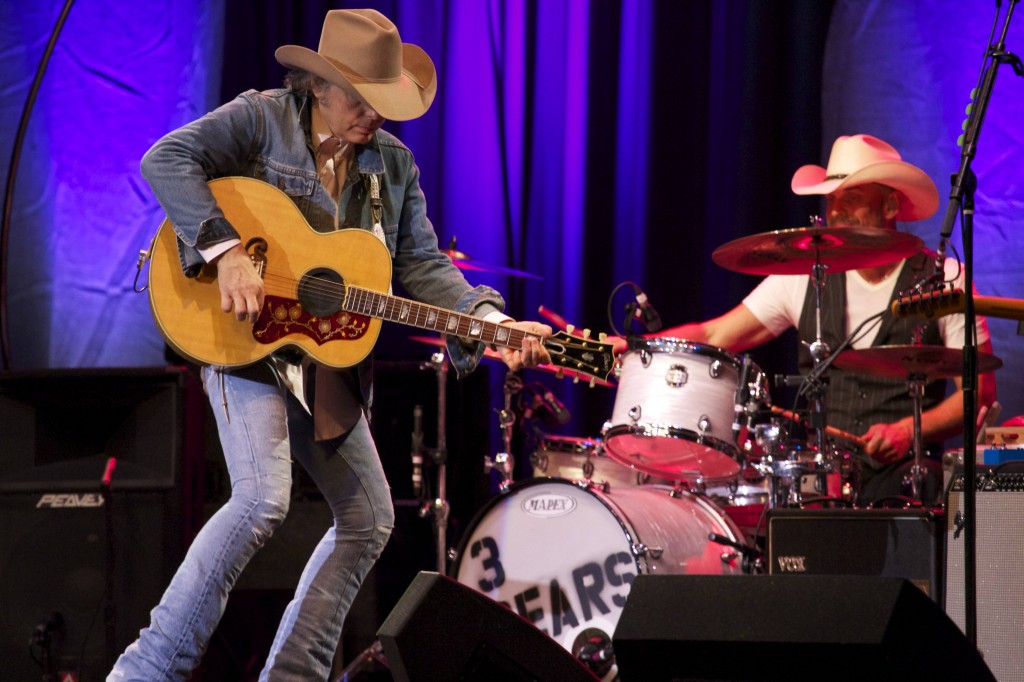 By Barry Gilbert
Country music star Dwight Yoakam is spending the summer reconnecting with fans on a tour that takes him to a mix of venues, from theaters and festivals to state fairs and casinos. It's a variety he appreciates, but he's especially partial to festivals, having played Cheyenne (Wyo.) Frontier Days, Bonnaroo in Tennessee and Stagecoach in California, among others, already this year.
I caught up with him late last month while he was home in Los Angeles for one day, running errands and doing interviews before heading out on the road again. (I wrote an advance for his concert in St. Louis on Aug. 18 based on this conversation for the St. Louis Post-Dispatch.)
We talked about a variety of subjects, from geeky guitar stuff to Western music fashion to the future of music distribution. But we started off with "3 Pears," his latest album that came out last fall and landed him atop the Americana chart for eight straight weeks, a big change from his days as a hitmaker on mainstream Country radio.
Here is a transcript of that 44-minute interview, edited for length and clarity:
BG: Let's start off with "3 Pears." It's been nine months, I guess? It was a smash on Americana …
DY: Yeah, it was an honor to have that kind of response to it, held the No. 1 spot for eight weeks on Americana radio. I was just elated. In some ways it felt like it was a full circle journey to have this album come out and be received on an alternative format, sort of like the first EP was when I began with "Guitars Cadillacs."
BG: And the album did No. 3 on Billboard Country as well.
DY: Yeah, on the commercial country chart.
BG: Did you get any radio play at all?
DY: I don't think that it was released at country radio. It took off at college, Americana and Triple A (Adult Album Alternative), so Warner Nashville decided to let the record guide itself. And there are still some new recordings, in fact, that may be a part of the deluxe edition that may be digitally released in August and then physically in September. So there may be some things that happen then at country radio. I'm just not sure.
I had a great run with commercial country radio, I had a lot of success, but it's been interesting to have this come full circle, to be embraced by the audience that helped launch me – not the same audience, the parents of the current audience of alt listeners, going back to the '80s, when I broke out of the kind of cowpunk scene here in LA.
BG: The whole "3 Pears" and being back on Warner strike me with so many interesting, ironic juxtapositions, for lack of a better word. You were on New West for a while but still aiming at Country radio, and now you're back on Warner Nashville and a smash on Americana, which was New West's market.
DY: Right, they were one of the premiere labels, they had Steve Earle, a variety of people were on New West during the time I was there. Cameron Strang, who is the gentleman patron of musical acts that was one of the co-owners of New West and one of the founders of the label and the catalyst behind everything I did at New West, became the CEO and chairman of Warner Chappell, the publishing arm of Warner Records, and my (music publishing) is with him, and now he's the president of Warner Records Burbank in addition to being the head of Warner Chappell. So there is a great symbiotic path that led to doing this with Warner.
BGIt's also kind of funny that you're on Warner Nashville and "3 Pears" has so many influences beyond what country radio would play. There's a little soul, a little R&B, on "Try," that bass line, and some horns, and glockenspiel, just all kinds of (he laughs)
DY: You gotta have a glockenspiel.
BG: You gotta have glockenspiel and handclaps on the same track.
DY: Yeah. There's glockenspiel. Don Was and I, the very talented producer/musician – Don and I have known each other for many years, he's now running, appropriately so, Blue Note, the EMI label – were talking a couple of years ago about what I was gonna do next. One night we were working, I was doing a guest vocal on Elizabeth Cook's record that Don was producing. And I played some of the stuff I was thinking about recording, things I was writing, and he said, 'Well, this is kind of like a mashup of everything you've heard in your life.' I said, maybe it is that. There's a variety of sounds that have accompanied me on my life's musical journey.
BG: I'm just a few years older than you, and I think we both listened to AM radio in the '60s and you could hear Sinatra and the Beatles and Aretha Franklin …
DY: Sinatra, depending on the cut (laughter). You could hear Buck Owens, the Beatles, the Rolling Stones followed by Frank Sinatra, followed by the Troggs.
BG: Yeah, wasn't that great?
DY: It was a great moment in music. I'm better for it as a musician for having experienced that moment in pop music culture, in the history of American music.
BG: I think we now consume our music the way we consume our politics, listening to stuff we're predisposed to liking, and I don't think that's a good thing.
DY: No, it's not. It's certainly not expansive. Look, within the community of musicians that I know, genre is something we're really only aware of because of the nature of the commercial delivery of music and the need to identify, for folks, the cataloging, if you will. It's a reference source. But it's not a boundary for musicians. In fact, in the last 20 hours, we posted a few things that may be on that deluxe edition. I just went in with the band without intention, one (song) I wrote in between takes of another song, we were kind of revisiting a couple of things on '3 Pears.' We're calling it '3 Pears and Then Some: Whole and Peeled the Deluxe Edition.'
We had done some radio shows, and there may be a few of those things that end up on that version of the album. The band and I couldn't help ourselves and got off into the mischief of a recording studio and cutting some brand new tracks. A couple of things are up on my Facebook today, they're Soundclouded up for folks until Warner releases them for download.
BG: The year you got your first break, in 1986, was a good year for Steve Earle and Marty Stuart and a bunch of other pre-Garth types, and a lot of those people are still, to one degree or another, still going strong. It was a good class that year.
DY: Well you know what, it was a good year to share the ears of the public with a lot of acts. There's a vortex of time and place that happens. I know in the early '80s in LA, it felt like it must have felt in the late '60s when Chris Hillman, one of the founding members of the Byrds, kept pushing the envelope of what rock could address, what a rock audience would respond to, when he encouraged the Byrds not only on, to me the first country-rock album, 'Sweetheart of the Rodeo,' but the album before, 'Younger Than Yesterday,' where Chris brought in (guitarist) Clarence White before he brought in Gram Parson, into the Byrds. That moment must have been just electric. Chris helped Stephen Stills and Neil Young get their first gig as the Buffalo Springfield at the Whiskey A Go Go. He said, look, you gotta hire these guys, and then he encouraged some of the CBS (Records) guys to go over and listen.
There was this great commingling of musical styles and performers that went on late '60s and early '70s and really launched modern country-rock. And Emmylou Harris was born out of that moment, she really served as a beacon for me to navigate towards on the West Coast. The record she did with Brian Ahern, that original Hot Band, along with Linda Ronstadt and the stuff that had greater success in terms of its metamorphosis into a pop format, the Eagles of course – Poco, the Burrito Brothers are kind of unsung heroes. I was asked by Chris, I was very flattered, he had me write the foreword to the book 'Hot Burritos' (subtitled 'The True Story of the Flying Burrito Brothers') and I alluded to the fact that they were … this almost King Arthur-esque tale of country-rock that had been born out of the West Coast. These guys were taking country music to a young rock 'n' roll audience and making it pertinent for my generation.
John Fogerty – I was a huge fan of what he did with Credence (Clearwater Revival). His first solo album, 'The Blue Ridge Rangers' album. I was just getting out of high school, going to college, and again, that period in the early '80s felt like LA was having another rebirth of making country music have some pertinence again for a new generation of listeners.
I was fortunate to be at that moment in time and share that because the independent EP of 'Guitars Cadillacs Etc. Etc.' came out in late 1984, Warners signed it in late '85 and we released the first commercial country radio track, 'Honky Tonk Man,' in '86.
BG: Let's talk about '3 Pears' just a bit. First of all, I have to ask you where did the title come from and why the P-E-A-R-S spelling?
DY: It's a tongue-in-cheek reference, over under sideways down, to the Beatles. I was home one night after doing another track in the studio and was eating dinner in the kitchen watching HBO, and the George Harrison documentary was on that Martin Scorsese directed, "Living in the Material World." This was in late summer, early fall of 2011, two years ago. And I happened to look up, and he was talking about he and John and this period during the Beatles in his life, and he's saying that they were accused of writing drug-induced lyrics. He said, my issue with drugs came later. During the Beatles, we didn't really do … we drank a bit, we smoked pot I guess, but John and I did drop acid a couple of times.
One night, someone slipped us acid at a nightclub. He said, we were cool, nothing happened dramatically except we didn't know where we were for a day and a half. And as he said that, they cut to some film footage of John, about '66 or '67, the kind of late mod pop period, he's in a turtleneck, its "Revolver"-esque, pre-"Sgt. Pepper, and he's wearing – as John was wont to do – he was yukking it up with the cinematographer, and he had three pair of sunglasses on simultaneously. It wasn't that '70s shot from the back of whatever the album ("Walls and Bridges," 1973) was where he has multiple pairs of wire-rim glasses.
These were big movie-star, Italian kind of sunglasses, one was up on his forehead, one was at the eyebrows and the other was just at his nose, and he was yukking it up. He'd look and speak to the cinematographer through one pair, then he'd raise his chin and laugh at him through another
It was all in the context of that moment (when) I looked up and really felt a bit of heartache for the tragic end of John Lennon's life. I remember I was playing in a club out in the northeast part of the Valley that night when that awful murder happened. And Delaney Bramlett came in, he lived not very far from the club, he was friends with the the drummer that was playing in this band I had in that club, Stu Perry … and Delaney came in just broken to pieces, saying he had known John a bit. And he got up onstage, asked if he could sit in, and we heard between sets that John … you know, (had) died.
You know, I just kind of looked up at the screen, and I laughed and I looked at my girlfriend and said, yeah, that's a funny and sad moment … and I looked back at the screen and I remember I said, well, there you go, John, three pairs of glasses. And as I said it I thought, huh, three pairs of glasses, three pairs of shades, and I thought, that's a song. And I started to walk across the kitchen to get a scratchpad because the thought came to me, the melody, and my girlfriend said later, you know you sang that basically out loud as you walked, and by the time I got to the piece of paper I jotted that opening … whimsical lyric of that down, and I said gotta go upstairs and grab my iPhone and just make the musical note of this. So I did. I later finished the second B section, which is really the theses of the song and in a weird way the thesis of what John Lennon I think struggled at times to express to the world, which was that sentiment that all I want for you is happiness. And he never quit rockin', John, he always rocked hard.
I wrote the title down – sorry I went off on a tangent there on the why of the title – I thought, well, I can't spell this p-a-i-r-s, I've got to spell this p-e-a-r-s, with a wink to John, Paul, George and Ringo, and Apple, their kind of sense of not taking themselves too seriously.
BG: How does the acting affect the music and vice versa? Do they feed on each other or are they compartmentalized? I know you've been doing both since high school.
DY: For me, one can feed the other. … They function in a mutually exclusive way from one another, too. They're obviously very different forms of expression. Music is a much more insular process for me. Acting leaves you at the mercy of opportunity, and at the mercy of a much more demanding collaboration, especially film or television where there's a crew of several hundred participants. …
And music, I mean if you – we kind of snuck off on our summer break, the band and I cut a bunch of sides we didn't intend to go in and do, we just (did it) over a few days, doing it in the studio. Four guys, me and my engineer and a couple of staff at Capitol Studios. So there's that distinction. But I guess the idea of thinking about at least the thesis of a story – songs tend to be much more condensed, the larger scale story of, say, a film, distilled to the thesis statement.
BG: In your character parts, you've been very … open with your looks, without the hat, showing the head, (but onstage) the cowboy hat and everything buttoned up. … Is the persona DYight Yoakam onstage acting as well? Is that a character?
DY: Is there theater involved in performance? Bulletin! News alert, right? I mean there was a time when I broke into music, and especially in country music, it had almost become void of any kind of presentational, theatrical, expression.
BG: Like Eddy Arnold in a suit.
DY: Well, beyond that, by the early '80s, it was Members Only clothes, the antithesis – right? To go back to the thesis, the visual thesis of country music, there was a great legacy and historic kind of birthright … that was being co-opted by rock and rollers by the late '70s, I mean including the Rolling Stones. They were going to Nudie's (Nudie Cohn of Nudie Suit fame) son-in-law Manuel, who became the next generation's rodeo tailor, and were adapting elements of Western culture and cowboy fashion that was really part of the history of country music, going back to Jimmie Rodgers.
What I'm doing as an actor is what is appropriate to the story and the character. And there is a difference in what I do musically, which is what I walk around in, if it's not the exact same pair of cowboy boots that I have worn among one of two brands for the last 33 or so years, and Levis Saddleman boot jeans that I've worn onstage and off. The hat comes and goes. I have trouble wearing it in everyday life because it tends to now identify me so loudly that I often, for need of being able to be offstage, I don't always wear my cowboy hat to go to the grocery store. But I don't wear a ski mask day-to-day … as the character (the gunman Raoul in "Panic Room"). I agreed to engage that story of that character in that physical presentation. Same thing whether it's "The Three Burials of Melquiades Estrada" (as a lawman) down to the small things I've done, like cameo roles in "Wilfrid." You have to be willing as an actor to do what's required in the best interest of the story. You are really a part of something larger than yourself as an actor.
But, yeah, is there theater involved in the onstage presentation? The staged presentation of live music? (laughs) Yeah, I guess so. There's lights, curtains often, and what I wanted to do and was afforded the opportunity to do was reclaim some of the wardrobe elements in terms of my presentation.
BG: Did you ever see Marty Stuart's "Sparkle and Twang" exhibit? (Stuart has taken it on himself to preserve country music's legacy in terms of clothing and presentation. He has warehouses full of contributed and acquired clothing, instruments and memorabilia.)
DY: I actually think I loaned a couple of things to it. He's been a friend since 1986, when we met, and Marty had an affinity for that before we ever met. The two of us met one another and didn't have to explain to each other why we were wearing spangly, sparkly stuff and twangin' our guitars. He owns Clarence White's original B-Bender (modified 1954 Fender Telecaster). Clarence White and Gene Parsons, who was the drummer in Clarence's band Nashville West … built that guitar, they designed it because Clarence was already bending the strings in that steel guitar kind of way, and Gene was sort of a mechanical wunderkind. … (Parsons) took a pedal steel pulley and lever off of a Fender pedal steel (and modified the Telecaster), and that guitar has a unique sound. Gene Parsons several years ago was gracious enough to build the guitar that Eugene Edwards in my live band now uses, the B-Bender, it's an exact duplicate of the one he built for Clarence that Marty owns. Keith Gattis copied – (he took) it apart and (took) photographs of it, and built for himself the one that he used on (Yoakam's) "Blame the Vain" album … in '05. So there's a connection to the guitar that Marty owns from one of the great West Coast players, Clarence White.
BG: I read Don McCleese's book about you ("A Thousand Miles From Nowhere") and in it you talked about that long gap between New West and "3 Pears" and that the nature of the music distribution business kept changing, and you kept changing the focus of what you were doing, trying to discern what the future of music distribution would be. Do we know that yet?
DY: No. (laughs) I almost answered before you asked. I still have no idea. But I think there are pathways certainly becoming more visible on the horizon. I think streaming is probably one of the future sources of how we will all hear music. I think Rhapsody and Pandora were early Spotify, and now this iHeart Radio, I think they'll maybe turn a corner with that and begin to address delivering music to large numbers of audience. I think that will become the model for how music is monetized in terms of people making their living doing it. The sale of records, the physical product, has diminished by two-thirds in the last decade.
It's a dilemma for the industry, for those of us who have to be able to justify the expenditure that's required to make a 12- or 14-track album configuration, a collection of songs at a given time and present material that way, you have to have it make sense for a label and for the individual artist.
BG: You've always been an album guy. Do you have any interest in releasing one track or two tracks at a time for download?
DY: I think it's up to the audience to decide. Maybe. Maybe that's what I just did. I just put three things on (Soundcloud). It may be a part of the previous album's extended release. One of the tracks is a re-imagining of the arrangement of "Take Hold of My Hand," the opening track. That (ability to quickly redo or re-imagine) is to me the thing that can be, from a standpoint of a business model, a bit unnerving (and) I guess frustrating for folks trying to predict (the future of music). It's simultaneously the thing that's kinetically invigorating and always leaves it feeling exciting and holding a promise of surprise and exploration.
And with that … something magical. The hope that you can pick a guitar up, begin to sing, share that with a three- or four-person rhythm section that makes it become a transcendent form of collective expression. Man there's a magic garden there that we get to go run around in and scream like we're 4-year-old kids. Run in the dark and catch lightning bugs, right? That's what music should be. I hope it is for me.