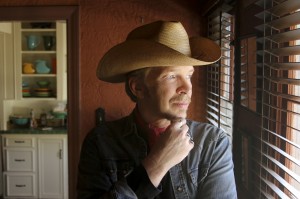 By Barry Gilbert
Dave Alvin has become one of America's greatest songwriters and guitar players. His early work with the punk-fueled R&B/rockabilly band the Blasters has matured into an adventurous exploration of American roots music encompassing folk, country and the blues.
His story and love songs are rooted in real people, ordinary working people facing personal and societal challenges yet somehow hanging on to a sliver of hope. Among his best: "Fourth of July," "King of California," "Ashgrove" and the new "Gary, Indiana 1959," plus exquisite co-writes with Tom Russell on "Haley's Comet," "California Snow" and "Out in California."
I interviewed Alvin for a Post-Dispatch story on June 14, 2011. I reached him on a tour stop in Asheville, N.C., about 11 o'clock in the morning — early for a working musician — and he apologized for not being totally awake. Here is a transcript of that interview, lightly edited for length and clarity.
We began by talking about Chris Gaffney, a fine singer-songwriter and accordion player and Alvin's best friend who died of liver cancer at age 57 on April 17, 2008. Gaffney recorded with his own band as well as the great Hacienda Brothers, and he was a member of Alvin's Guilty Men.
I told Dave I bought my first Gaffney album, "Chris Gaffney & the Cold Hard Facts," in 1989 based only on the title and band name and became a fan instantly. I talked to Gaffney a couple of times at Alvin shows, and enjoyed the conversations.
Gaffney's death hit Alvin hard.
DA: I could go on for hours. He was my best friend. He got all my jokes.
BG: Yeah, that is the mark of a best friend, isn't it.
DA: That is the mark of a best friend (laughing).
BG: And if they don't, they just pretend they do.
DA: He never pretended. He would let me know, on a scale of 1 to 10, how good the jokes were.
BG: "Two Lucky Bums" (on "Eleven Eleven") of course is a duet with Chris. You had originally offered that as a download. And it's that version I assume that's on the CD.
DA: Yeah. I cut a couple of other songs for the record, and when I was piecing things together it kind of made sense to put it on and hold a couple of other things. … That just kind of summed everything up.
BG: There is a subtext of mortality on the new CD. Is that the influence of Chris' passing, or is it bigger than that?
DA: Well, yes and no, it's a lot of stuff. Amy Farris, the violinist in the group I had, the Guilty Women, Amy passed away midway through touring for that record. (Farris committed suicide on Sept. 29, 2009.) She lived a block away, two blocks away, from me. I produced a record for her, I'd known her for years. I'd actually known her since she was a little teenage girl and would sneak into X shows in Texas. So a lot of that was kind of floating around, because of a lot of people, not just Chris. … When you're 19 or 22, you write songs about trying to meet girls, and the longer you write songs, they kind of change around a little bit.
BG: I talked to Steve Earle a few weeks ago and he said, talking about when his dad died three years ago, that when the generation before you goes, you're next. And that really affected his writing on his new record (and book, both titled "I'll Never Get Out of This World Alive").
DA: Those are big events. Part of songwriter's job description, I guess, is to reflect those changes, and music's always been a therapy of sorts, and it can make you feel like you're a kid again, it can make you feel happy, can make you feel sad. There's a lot of power in music.
BG: How would you describe the new CD? Is there a theme that you intended, or something that you realized was there that you hadn't intended, at least consciously?
DA: Yeah, sometimes after it's all done, or when you near the end, you go, oh my God, you know. I put a list in the liner notes of the record of 11 things the songs are about, keeping with the "Eleven" theme. (The 11 things are "life, love, death, loss, money, justice, labor, faith, doubt, family and friendship. The usual stuff.")
But when I was writing it, well, let me put it this way. I don't travel really swanky, you know (laughing). I don't have a tour bus with my own room in the back to sit and write songs, to replicate some kind of work conditions like some people can. So it's been very hard for me over the years to really write on tour because usually I'm out with one or two vehicles, and I love to drive, so I'm driving all the time.
With the Guilty Women, there was a plethora of drivers, so I could turn over driving to the singer, Christy McWilson, and I would sit shotgun and write songs. And then throw out lines to her, hey is this line good? … And then I'd go home for a week and go into the studio and cut a song, and go back out on tour and come home and cut a song. So I didn't really sit down and say the songs are going to be about this and this and this, but near the end I realized … I was trying to touch a lot of bases, not just mortality, but I was trying to work in all 11 themes into every song, just about.
(One of the songs on "Eleven Eleven" is "Murietta's Head," and I asked Alvin whether he had read "L.A. Outlaws" by T. Jefferson Parker, the first of Parker's Charlie Hood series. In that book, a woman claiming to be a descendant of Joaquin Murietta, an iconic 19th-century California figure who was variously thought of as a Robin Hood type or a simple murderer, robs from the rich and gives to charity. Alvin had not read the book, but he said Murietta folklore runs deep in California.)
DA: It might be a requirement for California folksong singers that everybody's got to have a Murietta song. I kind of like dabbled with it off and on over the years, trying to write one, but most of them tend to be in the Robin Hood vein, which is fine, but there's just been a lot of them.
What I wanted to do was write about – how do I put this nicely – I wanted to write about how in hard times, in tough times, the poor fight the poor, and the victims tend to take it out on each other. A lot of the characters in my story songs tend to be people who are caught between gigantic forces that they have no control over. … For "Murietta's Head," I try to tell just a little bit of the Murietta story but not get too Robin Hoody about it, and make it a story about, well, (he) may be Robin Hood, but I need money, so I'm going to kill him (for the reward) or die trying.
BG: When I was listening to "Gary, Indiana 1959," it reminded me that when we talked last time, you told me about your dad, who was a union organizer, and you heard all of his stories at the dinner table. Have you ever been tempted to write an overt protest song?
DA: Well, I've written a couple, and I would consider ("Gary, Indiana 1959") overt in its way. I'm sure some people may not like it, I don't know. It's not going to get me invited to a certain political convention, I'm sure.
My problem is, if you just write it overtly, the nature of the media now, if you write a story about it, it's out of date within a week. By the time you write it, get it to the band, record it, mix it and get the record out, you're already ancient history. So to me, any sort of political stuff has to be couched as something else, either in a story song or a love song. They don't hold up well just flat out overtly. If you look at a lot of Dylan's stuff, the best ones are the ones like "The Lonesome Death of Hattie Carroll," things like that that are story songs that talk about universal things, things that are timeless, as opposed to zeroing in on like, 'I don't like Bob Jones, he's a jerk.'
And the other thing is, usually the issues are so complicated that it's hard to just do the cut and dried, this is this and that's that. I always try to look for all the nuances and subtleties. On that song, "Gary, Indiana," it goes back to the thing about people getting smashed between forces that are bigger than them. And when that strike happened in 1959 across the country, it was one of those times, rare times, when working people actually had power, had a voice. And it's not that way anymore, for a variety of reasons. So it's both a celebration of that voice and a sad comment on the fact that that voice is gone, or it's been diminished.
BG: Speaking of that track, Gene Taylor's piano on that thing is just great.
DA: Yeah, he sounds great doesn't he?
BG: We'll get to Phil in a moment, but you've worked with ex-Blasters like Gene on this record for the first time. What's changed? (Phil is Phil Alvin, Dave's older brother and lead singer of the Blasters, in which Dave was the chief songwriter and lead guitar player.)
DA: Oh, going back to that mortality thing, we may not be around forever. So it was a combination of that and when I got into town off the road – because Gene lives in Europe, but he was in town and we've done a couple of gigs with this thing called the Gene Taylor Blues Band, which was basically the Blasters without my brother singing and Gene doing all the vocals. So it was kind of like, hey, Gene, what are you doing Tuesday? If you've got the afternoon free, come in and cut a couple of tracks. So this was like a combination, as I said, we may not be around forever so every now and then, we can make some music together. So it was a combination of that and happenstance.
BG: How did it happen with Phil? (Phil and Dave do a duet on "Eleven Eleven" titled "What's Up With Your Brother?") Did you even sing backup vocals with the Blasters?
DA: No. There's one track on the "Hard Line" LP (1985), the last record with the Blasters, I sort of do. (Dave put his vocal on the demo) so the band could play along because my brother wasn't in the studio when we were tracking that particular song, and so when Phil showed up to do the vocals, Don Gehman, the producer, said let's just leave those on in the background on the chorus. So you kind of hear me singing, but no, we never looked at each other and sang.
Growing up, Phil was such a great singer, starting pretty early he had a pretty loud voice, and we weren't like the Everly Brothers, we didn't sing harmonies together. It was strictly: I'm the singer, and you're not. … (On the new album) we finally did it, and poking fun at each other.
BG: Was it fun to do?
DA: (pause) Ninety percent of it! (Laughing) We got into one little argument, you know, but that's to be expected. But, yeah, it was great. And the little sort of vaudeville routine at the end was totally spontaneous. Because we tracked it live, all the songs were recorded live in the studio. And we both had microphones, and we're sort of looking at each other and, as the song ended, we were just going to sort of fade out, and I said, hey Phil, it's fun singing with you, and he just took it from there. (Laughing) If we had scripted that out, it wouldn't work. He sort of curve-balled me.
BG: Was that line about you leaving the band a reference to the Blasters' history?
DA: Oh, yeah (laughing), oh totally. He claims that he was the last person to know (that Alvin had quit the Blasters). It's one of those things that, before I left the band, I was always yelling in his face, "I'm gonna quit this band!" so it was sort of a little good-natured ribbing.
BG: I was looking at your discography on All Music Guide, and it gives "Romeo's Escape" a rating of 4 1/2 stars. (The album was originally titled "Every Night About This Time" in its UK release. Subsequent U.S. pressings were titled "Romeo's Escape.") I remember you told me (during a 2004 interview) that it was not your favorite album because you hated your singing on it. What have you learned about your singing over the years?
DA: One of the things is not to do it drunk. (Laughing) When we recorded that record, Steve Berlin was the producer, and the band's great, but I was so scared. I never sang (before the sessions for that record). There was some beer and vodka involved in the vocals. We got through it.
You know, guitar players tend to want to sing in guitar keys, like E and A, and I used to never use a capo. So I started discovering thanks to (producer, guitarist and pedal steel player) Greg Leisz and a couple of other people what my keys were and what my voice was.
I did some gigs in the very early '90s with Richard Thompson, and watching Richard sing was a real education, where he would place his voice. Richard's a really good singer, and he would place his voice inside the song as opposed to outside. The singers that I grew up admiring, like my brother or Big Joe Turner or Muddy Waters or Al Green, were guys who put their voices above the song – because they could – and so to me, that was how you sang — you belted it out.
And what I learned from Richard and some other singers was to kind of relax and do it, almost how to sing like Bing Crosby, because Crosby had that relaxed way of doing songs, where he tried to sound like he wasn't singing, you know what I mean? And so, the more I practiced that, it just became easier and easier to interpret the song, and I started worrying less about singing the songs and more about how to interpret the lyrics, how to get it across without pushing it.
BG: Your songs are so wrapped up in California. To those of us who don't live there, some of us think of the beach, some of us think of Hollywood. What is California to you, and have you written a song yet that nails California for you?
DA: Have I? Not that I know of. It's a pretty big state. I guess all states are schizophrenic, or have multiple personalities. California is no different. The (personality) that gets the most attention, the stereotype of the Brian Wilson (Beach Boys) California, is there certainly, but it's such a small part of the state.
Once you get a mile away from the coast, everything changes. … Merle Haggard's born and raised in California, same as Brian Wilson, so there you go. So I think it's really hard to sum up in one song. Probably the one that sums it up the best is "King of California" just because it deals with the dream versus the reality pretty bluntly.
BG: I guess I think of "Dry River."
DA: Yeah, that could work, too. That's one of those songs that when I was writing it, I just thought, what a horrible song, nobody's ever going to understand this but me, and it's actually turned into one of the more universal songs of mine.
Sometimes, the more personal you make a song, the more universal it becomes. And when I try to write a universal song, I tend to fall on my face. I did it (successfully) once or twice, like with "American Music" (one of the Blasters' signature songs).
BG: Well, Dave, I'll let you go, thanks for your time, and I look forward to seeing you in a couple of weeks.
DA: Yeah, sorry I was so bleary-brained! Just shape it up and make me sound smart!