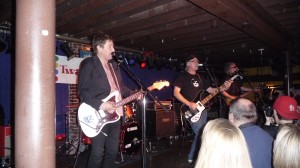 By Barry Gilbert
The Cardinals may have dropped out of first place in the NL Central on Sunday, but on Saturday night they led the majors in song as the Baseball Project hit it out of Blueberry Hill's Duck Room to close out Twangfest 15 in St. Louis.
Veteran rockers Steve Wynn, Mike Mills, Scott McCaughey and Linda Pitmon, wearing their twin passions for music and baseball like a uniform, tore through 14 tracks from their two CDs as the Baseball Project. And for extra innings, they connected on songs from some of Wynn, McCaughey and Mills' other bands: Dream Syndicate, the Minus 5 and R.E.M., respectively.
Twangfest, which became Flood Fest on Friday night when storms outside caused floor drains inside the Duck Room to back up and leave an inch or so of stinky water underfoot, was threatened again Saturday when water started rising just about showtime. But the Blueberry Hill crew dealt with it quickly, and opening act Marah went on just a bit more than a half-hour late.
Four of the Baseball Project's songs were inspired by Cardinals:
• "Broken Man," about baseball's steroids era and Mark McGwire's home run chase: "No one seemed to care when it brought back the fans./ It's a broken record, strike up the band for the broken man."
• "Gratitude (For Curt Flood)," about how Flood's challenge of baseball's reserve clause paved the way for today's super-rich stars, but "five years later they were rolling in clover but nothing for me, my career was over."
• "The Closer," inspired by Al Hrabosky's late inning mound heroics: "All my heroes had colorful names and a bad attitude, short-lived fame with an even shorter fuse."
• And "El Hombre," in which Albert Pujols insists he is not El Hombre because "Stan's the Man."
The band took the stage within hailing distance of midnight as McCaughey said, "Here's a song we wrote in 1876": "Take Me Out to the Ballgame."
The musicians insisted that they aren't "Fair Weather Fans," each taking a verse to explain the origin of their baseball allegiances, and they questioned whether all the changes in baseball have sent the "Past Time" past its prime.
Other songs, rich in nuance and perspective, tipped their caps to Ichiro Suzuki, Reggie Jackson, Ted Williams, Tim Lyncecum and many more.
To close out the main set, however, the Project gleefully jettisoned Mom and her apple pie for McCaughey's Minus 5 song "Aw Shit Man."
But perhaps Mom had already covered the kids' ears after the band earlier played "Ted Fucking Williams."
"I love to play that for toddlers," McCaughey joked, explaining that for a performance at a Single A game, the band changed the lyric to "Ted Freaking Williams."
McCaughey led off the encore with the Minus 5's "Lies of the Living Dead," followed by Mills' R.E.M. hit "(Don't Go Back to) Rockville" and Wynn's Dream Syndicate track "The Days of Wine and Roses."
On Saturday afternoon, the Baseball Project played an acoustic set at a special Twangfest house concert, so the nighttime show was its second gig of the day — xcept for Wynn and Pitmon, for whom it was No. 3.
That's because they preceded themselves on the Duck Room stage with bassist Dave DeCastro and guitarist Jason Victor for a set as Steve Wynn & the Miracle 3. Their 12 high-octane rockers from Wynn's solo career included "Colored Lights," "Consider the Source" and "Resolution" from the new CD "Northern Aggression."
Those kids from Philly, Marah, opened the night with a much different lineup from their previous Twangfest appearance in 2004. Front man Dave Bielanko, continuing without brother Serge but still pouring sweat from under a fur-lined hat, came out to the theme from "Rocky" and established a visceral connection with fans. It was an exciting opening set featuring "Limb," "Faraway You," "Within the Spirit Sagging" and "Walt Whitman Bridge."
Baseball Project set list
Take Me Out to the Ballgame
1976
Ted Fucking Williams
The Straw That Stirs the Drink
Broken Man
Don't Call Them Twinkies
Fair Weather Fans
The Death of Big Ed Delahanty
Ichiro Goes to the Moon
Gratitude (For Curt Flood)
The Closer
El Hombre
Harvey Haddix
Panda and the Freak
Past Time
Aw Shit Man (Minus 5)
Encore
Lies of the Living Dead (Minus 5)
(Don't Go Back to) Rockville (R.E.M.)
The Days of Wine and Roses (Dream Syndicate)
Steve Wynn & the Miracle 3 set list
Halloween
Bruises
Cindy It Was Always You
Colored Lights
Consider the Source
We Don't Talk About It
Resolution
That's What You Always Say
Death Valley Rain
John Coltrane Stereo Blues (Dream Syndicate)
Amphetamine
Encore
When You Smile