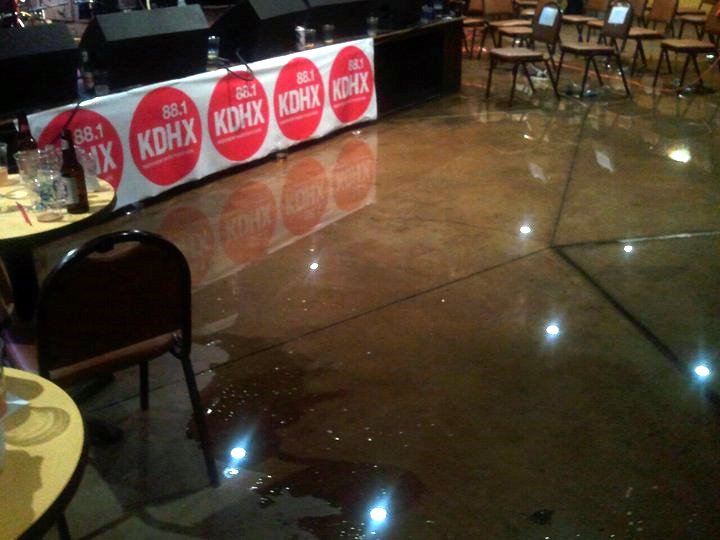 By Barry Gilbert
(Thanks to recording fiend Jeff Regan for an mp3 of "Wet Vac.")
Friday night's thunder and light show again flummoxed University City's storm and sanitary systems. As drains backed up and the tide rose across the floor of Blueberry Hill's Duck Room, I remembered that Nora O'Connor had the perfect song for the occasion in her catalogue: her cover of Tom Waits' "Looks Like I'm Up Shit Creek Again."
It wasn't needed, because she and the rest of the crowd on the third night of Twangfest 15 listened in delight as headliner Robbie Fulks riffed twice on improvised songs.
As fans in sandals and flip flops sloshed in an inch or so of stinky water, Fulks and O'Connor battled a wet vac droning what Fulks judged to be middle-E and inspired what we'll call "Wet Vac":
"While the water came into the club/ the wet vac worked very hard./ Twangfest would not be ruined by the water/ so we diverted it into someone's back yard./ While the rain in St. Louis couldn't stop the Twangfest when they brought the wet vac out/And to the sound of the wet vac E/ all the (unintelligible) got to scream and shout/ (shouting) WET VAC … WET VAC … WET VAC … wet vac."
Later, Fulks improvised the more involved "The Duck Room's Goin' Down."
Despite – or maybe inspired by — all that, Fulks turned in a memorable set that covered all of the prolific Chicago-based singer's obsessions, from traditional country music to Michael Jackson.
Thanking the crowd for "standing in sludge and sewage," Fulks opened with "I Push Right Over" and "Busy Not Crying" before O'Connor joined him onstage for "Parallel Bars" and her own "My Backyard."
Along the way to his set-closing anthem, the raucous and joyous "Let's Kill Saturday Night," Fulks paid tribute to Gram Parsons, who with Emmylou Harris famously covered "Love Hurts"; George Jones, whose duet with Melba Montgomery on "Flame in My Heart" was beautifully re-created with O'Connor; and a pair of covers of songs by Jackson, the late King of Pop.
For years, Fulks talked about doing an album of Jackson songs and, last year, he finally released the 14-track, irony-free "Happy." Fulks, bassist Mike Fredrickson, guitarist Grant Tye and drummer Dan Massey tore into "The Girl is Mine" and had the crowd splashing to a killer take on "The Way You Make Me Feel."
Then it was back to Fulks originals, including his tribute to Buck Owens on "The Buck Starts Here" ("and Hank's sure to follow"), "Cigarette State" and "Let's Kill Saturday Night."
For an encore, Fulks blazed through "She Took A Lot of Pills (And Died)," a country stomper aimed at the life-coping challenges of some celebrities.
That seemed to be it, until musician John Wendland (Rough Shop), a DJ at festival sponsor KDHX (88.1 FM) and a Twangfest board member, grabbed a mike and shouted: "We're standing in sewage, for God's sake! You'd think they'd come out one more time."
And out Fulks came – for a do-over on his guitar solo earlier on "Bluebirds Are Singing for Me" and the uptempo country-pop weeper "Tears Only Run One Way."
The first act to face the flood was North Carolina's Chatham County Line ("Is Robbie Fulks taking a shower backstage?"). The four-man powerhouse from North Carolina adheres to some of the conventions of traditional bluegrass performance, including wearing suits, but stretches the boundaries musically.
CCL uses a single microphone in the style of early bluegrass stars such as Bill Monroe – who were limited by the technology of the day – but augmented with two smaller, waist-high mikes to better pick up the band's unamplified instruments. So unlike some bands whose players never look at each other, these guys need to keep their eyes open to avoid taking an elbow or, worse, a fiddle bow in the eye as they slide in for a solo, slide out and change places to make room for the next player, and lean in for four-part harmonies.
Lead singer and guitarist Dave Wilson, mandolin and fiddle player John Teer, bassist Greg Readling and banjoist Chandler Holt have built a loyal following over five albums and touring by marrying this traditional presentation with original songs that mix bluegrass, folk and country. And while each is an accomplished picker, their soloing is focused and always in service to the songs.
Standout tunes Friday night included the new "Wildwood," "Chip of a Star," "Let It Rock" and "Speed of the Whippoorwill," as well as fine and unexpected cover of the Traveling Wilbury's "Handle With Care."
A special treat was their tribute to the late University City native John Hartford with a heartfelt cover of "Tear Down the Grand Ole Opry."
Preceding Chatham County Line was Michigan's Frontier Ruckus, whose ambitious folk-rock is built around the lyric-intensive songs of Matthew Milia and flavored with horns and bowed saw.
And opening the evening was the fine St. Louis bluegrass quartet Cumberland Gap. Led by songwriter and singer Greg Silsby, the Gap got the evening off to a warm start with a mix of originals and covers including the traditional "John Henry."
Rock 'n' roll returns to the Duck Room on Saturday for the final night of Twangfest 15 featuring the Baseball Project, Steve Wynn & the Miracle 3 and Marah.