TWANGFEST 8 FEATURED LOTS
OF GREAT AND FEW PRETENTIOUS MOMENTS

By Barry Gilbert
Of the Post-Dispatch

photo by Jason Baldwin
Robbie Fulks listens to his band during his performance at Twanfest 8.
June 17, 2004
As Twangfest 8 recedes in the rear views of the 16 artists who performed last week, it's time to recall the most honest and least affected line uttered from the stage:
"My husband's going to pee, then we'll play," explained Handsome Family singer and lyricist Rennie Sparks, as her husband, singer-guitarist-composer Brett, left the stage after taking an eternity setting up for only two people and a laptop computer (more on that later).
Thanks for sharing, Rennie. And thanks for the music to all of the rockers, popsters, country crooners, rockabilly boppers, alt-country revisionists and, to borrow from Robbie Fulks, roots-rock weirdos who played over four nights and two venues.
Here are some impressions from the first three nights of Twangfest 8 culled from a reporter's notebook -- at least those pages that were still legible a few days later:
A reason they're
called headliners
As good as the three supporting acts were each night -- and they mostly were really good -- something electric happened when teenage Beatle worshippers the Redwalls, Philadelphia rockers Marah and alt-country wild man Fulks took the stage.
Part of it, at least for Marah and Fulks, comes from having a loyal base of fans who know the music and are expecting to be wowed, and who generate an energy that the artist feeds off.
But that doesn't fully explain what happened to the air in the small Duck Room at Blueberry Hill when Marah's Bielanko brothers slammed into "Reservation Girl" and Fulks charged through Johnny Cash's "Cry Cry Cry" to open their sets on Thursday and Friday, respectively. It really was thrilling.
Funniest flub
Grey DeLisle of Los Angeles, autoharp slung over her shoulder, was about midway through her set of love songs when she introduced a number, sung in Spanish, that she solemnly explained had been taught to her by her grandmother -- and promptly forgot the words about a verse into it.
"Well," she said, "I guess I wasn't listening to grandma. She was talking, and I (moving her hand like a jaw flapping) was going, 'Sure grandma, yap yap yap . . .'"
Best comedy routines
Rennie Sparks of the Handsome Family wins this with no competition:
-- "Good evening, I'm Homer, this is Jethro, and that's our baby" -- indicating Brett's old clamshell Apple iBook, which handles all of the percussion chores.
-- "This song is about the Donner party, if the Donner party had been a man . . . on a horse . . . with a dog." The song is "The Song of a Hundred Toads" . . . a hundred hungry toads.
-- "This song is about the redwood forest, and suicide. . . . They cut it down today; I hope you visited it. . . . They needed it for the war effort -- for freedom boats. . . . The trees are so tall they were ruining TV reception all over California."
-- "This song is about a dead body when you leave it in the woods."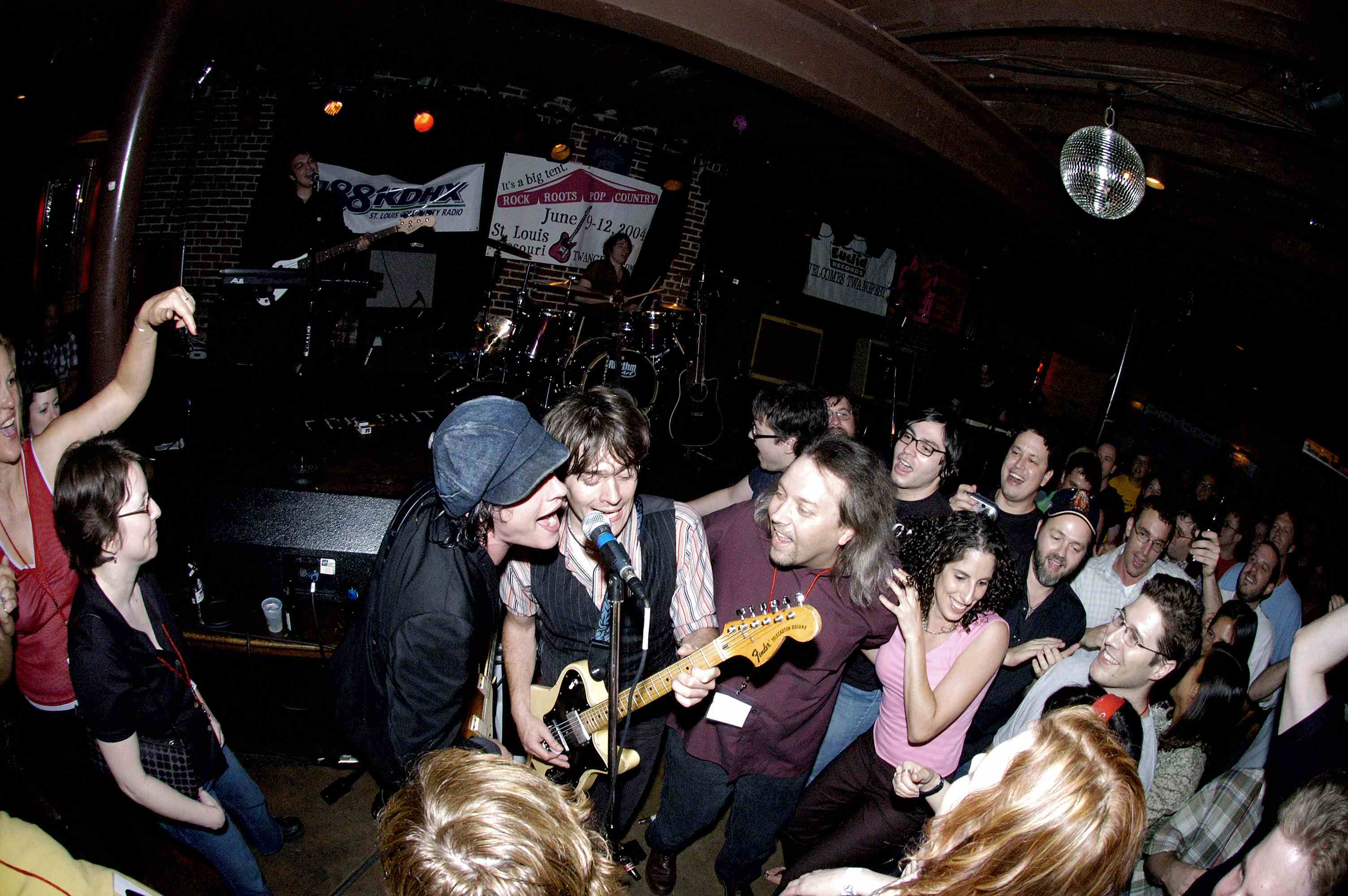 photo by Jason Baldwin
Marah takes to the dance floor at the Duck Room
Best table dance
The music of A3's "Woke Up This Morning," aka the theme of "The Sopranos" on TV, set up an edgy vibe, and then Marah took the stage and went from 0 to 120 in about three seconds. Lead singer Dave Bielanko jumped into the crowd and then atop a small, round, quite unstable table for his first guitar solo, and the band never looked back.
Later, during "Catfisherman," Dave and guitarist brother Serge jammed on the dance floor -- and then Dave apparently handed his guitar to a startled fan and walked away, leaving Serge temporarily with a new partner.
Most unusual
performances
1. Danny Barnes' full-band CDs were no preparation for his performance on opening night Wednesday at the Tap Room. The banjo and guitar whiz accompanied himself, but his long and intricate solos were difficult to follow. The crowd, judging by a drastic hike in chatter, lost interest. Barnes, however, was gracious and played on.
2. Marvin Etzioni, Grey DeLisle's producer, played lead mandolin; that is, he played mandolin as if it were an electric guitar -- fills, runs, solos, punctuations -- and then he cranked up the amps and took it to Jimi Hendrix land. It would have been stunning in any setting, but he was playing in a trio with autoharp and acoustic guitar.
3. Rennie Sparks' hooter. That is, the Hohner Melodica, a tiny keyboard powered by a mouthpiece and air tube, which Sparks used on occasion to give a different timbre to the Handsome Family's songs of ghosts, gore and gothic country.
They might be giants
The Redwalls, from Chicago, headlined Wednesday night at the Tap Room, and the buzz preceded them. The four teenagers, in look, sound and staging, are direct descendants of the '60s British Invasion, especially the Beatles. If you were to close your eyes during "Speed Racer," you'd swear John Lennon was singing. Open them, and you'd see "Lennon" to the right, and "George" and "Paul" sharing a mike to the left. All that was missing was a left-handed bass.
The Redwalls started off a bit ragged but hit their stride halfway through and finished on a tear with a cover of the Rolling Stones' "Live With Me." What they lacked in originality they made up for in sheer enthusiasm. And the boys can play.
It'll be fun to follow them and see how -- or if -- they grow into their own voice.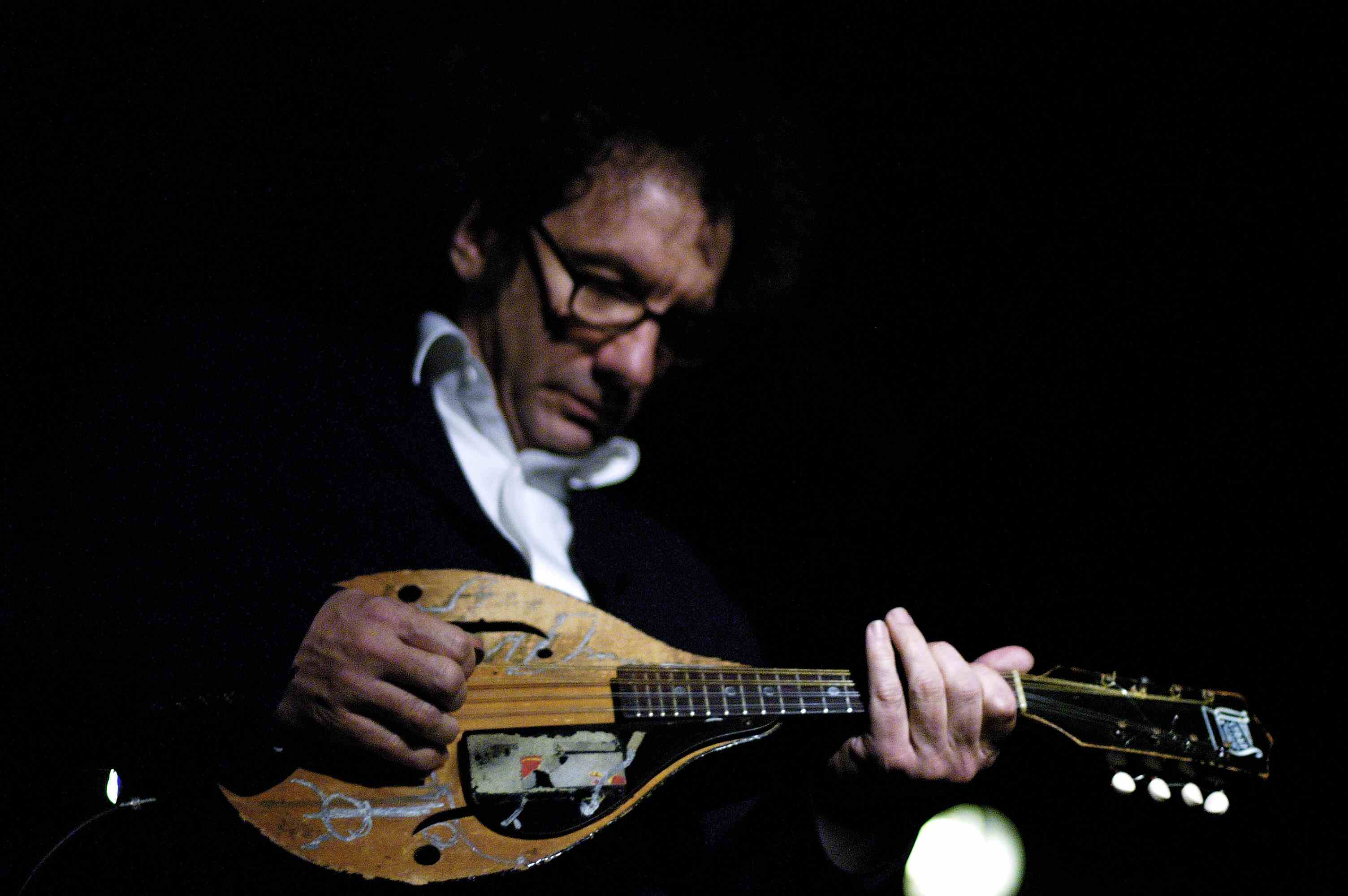 photo by Jason Baldin
Marvin Etzioni plays "lead mandolin" during Gray DeLisle's set.
So that's who they are
While Grey DeLisle worked on her new CD "The Graceful Ghost" and two earlier self-released efforts, she kept bread on the table by working as a voice actress. Check out imdb.com, the Internet Movie Database: DeLisle has 72 listed credits since the early '90s, ranging from Nickelodeon and Cartoon Network shows to "Star Wars" video games to the voice of the first victim in "Van Helsing: The London Assignment," the animated prequel to the Hugh Jackman film.
DeLisle's band has a past, too. Her husband, guitarist-singer Murry Hammond, is a member of the alt-country band the Old 97's. And mandolinist-producer Marvin Etzioni was a founding member of alt-country trailblazers Lone Justice, the band that produced singer Maria McKee.
Most appreciative
Adrienne Young, the sweet-voiced leader of the traditional acoustic band Little Sadie, was taken aback when she was called out for an encore after her winning opening set on Thursday.
"This doesn't happen very often to an opening act," she told the crowd in expressing her appreciation for their appreciation.